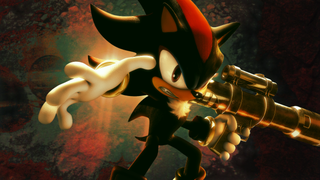 Since his introduction in Sonic Adventure 2, Shadow the Hedgehog has become one of the most popular characters in the series second only to the Blue Blur himself. It was inevitable that he would eventually star in his own game. The result was 2005's Shadow the Hedgehog, a huge letdown of a game to fans of the Ultimate Life Form. But today I'd like to talk about something this game got right: It's soundtrack.
While the game itself was kind of a disappointment, Shadow the Hedgehog had a phenomenal soundtrack. From dark orchestral music in the cutscenes to the industrial metal and guitar-laced electronica of the action stages and boss fights, the game had so many good things going for it musically. The dark and gritty riffs of the music of the opening stage "Westopolis" pulled me in almost instantly and the game's soundtrack had me enthralled all the way through. And the delicious bass lines of "Lethal Highway" had me playing that stage over and over.
These tracks just fit the character of Shadow so well. Industrial metal is typically a very dark genre and it lends itself very well to his dark and tragic past and to the overall mood of the game. Many tracks in the game are reminiscent of bands like Rammstein, Ministry, and Orgy who are all legends in the realms of industrial rock and industrial metal. Jun Senoue and company did a fantastic job with the soundtrack. I've said it many a time, Mr. Senoue is an amazing guitarist and his riffs and melodies throughout this game are fantastic.