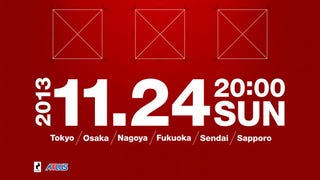 Let it be Persona 5 announcement please!!
Via the official Persona twitter account, earlier today Atlus revealed a November 24 teaser site (p-ch.jp), and the most interesting part is that little logo next to the Atlus one:
Look behind your Persona 4 Golden or Persona 4 Arena box and you will find this Logo. That logo is the logo from P studio, better known as Team Persona and as you may have guessed they developed the SMT spin-off series Persona.
The teaser site is red-themed and taking into account the upcoming projects from the series we could only speculate that this will be an announcement for Persona 5 or maybe something related to Persona 4: The Ultimax Ultra Suplex Hold's new character Sho Minazuki whose hair is red (Maybe both, there is a possibility that he will be P5 protagonist).