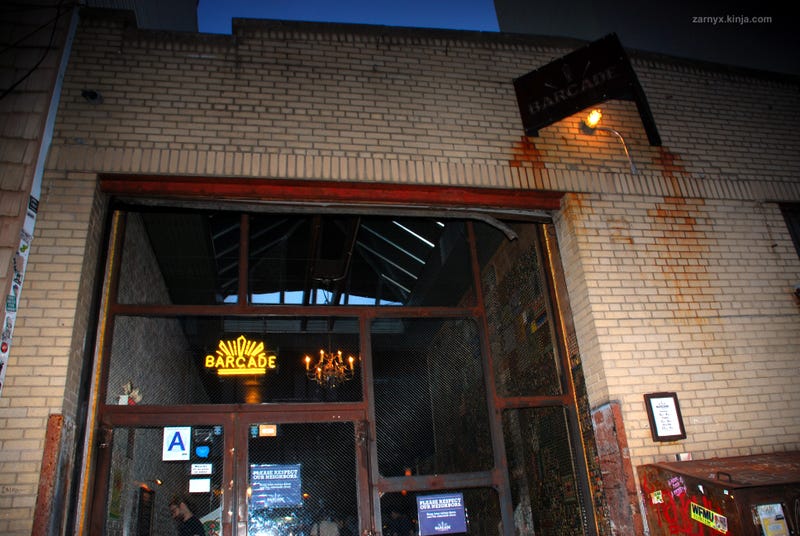 With my Adventure Time t-shirt and my Gorillaz Chuck Taylors on*, I trekked my way into unknown territory last night. For the first time ever in all the years that I have been living in NY, I set foot in Williamsburg, NYC. I figured I needed to dress the part some because to infiltrate and understand the hipsters, you must become one like the hipsters. I don't think I'd ever fully be able to succeed in that regard and my War on the hipsters continues but the point of the evening was for something far more entertaining than made-up wars in my head. I went to play some classic, glorious video games on some glorious arcade machines and met up with some like-minded awesome people at the Brooklyn Barcade.
Yikes, sorry about the poor quality on the pictures this go.
Oh, how clever a name! The Brooklyn Barcade is exactly what you think it is: a place where you can not only get your gaming on but for getting your drank on as well. It's so much more than that though. It houses some great machines and waves of nostalgia to immerse yourself in. Even if you never had the opportunity to experience some of the games before, there's something undeniably charming about a lot of them in their routine simplicity. There's love in the way they are presented. My memories of Ms Pacman (though my sister and I preferred Pacman Jr.) were joystick related. Here though, there's magic in the feel of your hand on the arcade stick. It's all in the environment of an arcade that gives it so much feeling; it's in the immersion of you and the machine in front of you; and inserting quarters into the slot, hearing it drop in with that beautiful sound of 'acceptance' and bringing up that screen that tells you to press start to play.
Of course, a couple of the machines ate some of my quarters. $3.50 was all I had to my name to be shared among my friend B and fellow TAY'er UI 2.0 but I was pressed for time too and we made do. But you know, even the machine eating your quarters is somehow part of that experience. Sure you feel all mad and there's the moment of frantic tapping on the start button to see if you can get the game to start up, along with your cry of disbelief of "...this ?$@!#!$! ate my quarter!" (yep, you totally shout it out in Q*Bert style**. Of course! It's the only way to do these things).
I've only been to a few arcades - some really colourful ones in Japan with their sensory overload on colours, sounds and pigs; and the Chicken Arcade in Chinatown, NYC - and being in the Brooklyn Arcade felt a bit much like the arcade in Chinatown but less shady, less cramped and more relaxed. It's dark, with the glow from every machine helping to light the place while calling to you in an enticing manner. The machines sort of silently stand there and lure you in with their little demos jogging your memories while displaying exactly what sort of fun you're about to dive into.