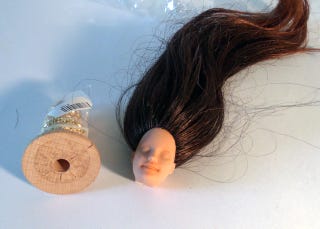 Welcome to Craf-TAY Corner, the monthly feature that showcases the creative side of Talk Amongst Yourselves. If you do arts, crafts, cosplays or any other cool, creative things, this is the thread to talk about your current and upcoming projects.
First off, I apologize for this feature being so late. Stupid interwebz stuff prevented me from going online and then Newtaku took its wrath on my mom's comp which I had been using. But better late than never, right?
February was a bad month for me craft-wise. I had too much stuff going on to have time to do any real work. Stupid stuff. Stuff sucks. It wasn't a complete loss. I got the messed up paint off of the face and found the chain I'm going to use for Bayonetta's body suit, now I'm just waiting for the weather to get better so I can finish rooting the hair and spray the first coat of sealer so I can start building up her face again. *Looks outside* Hmm. Snowing again. Oh goody.
Luckily, not everyone on TAY is as busy or as lazy as I am. Newcomer Varia posted not one, but two amazing guides on Wigs and Latex prosthetics that are absolutely awesome. I look forward to seeing more features from her in the future, especially as con season ramps up and more and more of you cosplayers come out of the wood works and show off your new costumes. And StormBorn continues to make all of us look bad by continuing his Pokemon Redesigns of the Day. He's pretty close to finishing now.