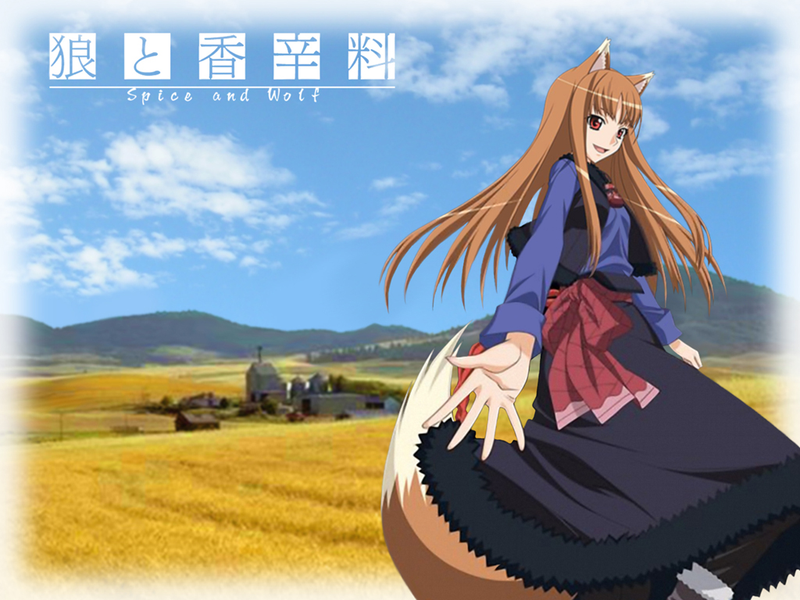 Today it's Spice and Wolf's turn in the spotlight. It's a show about a traveling merchant, a fantasy world that looks like Feudal Europe, and a pagan wolf god. Hey, I didn't exactly say it was going to be entirely normal did I? Regardless of how that sounds, it turned out to be a fantastic show.
Despite both seasons of Spice and Wolf being produced by different companies, they shared the same director and the transition was seamless. As a result, this covers both seasons.
Spice and Wolf follows the exploits of economically savvy Kraft Lawrence* as a traveling merchant in a fantasy land much like feudal Europe. At the start of the series he pulls into a small wheat harvesting village for a bit of harmless trade. Things go along pretty smoothly and he eventually leaves the town after going to their annual wolf festival that pays homage to the wolf god Holo* that makes their harvests rich (or I should say that was how it started).
After he leaves, he finds a young woman hidden in his wagon. As she awakes, she reveals herself to be Holo, the wolf god from the village. Thus begins the tale of Spice and Wolf, where-
Hey... wait a second. This voice actor for Lawrence is familiar... ah ha! It's you Lelouch! Playing two characters that have a knack for meticulous plans and Xanato's Speed Chess? How typecasty of you... WAIT A SECOND! You have a traveling companion whom is an immortal woman that has an unhealthy fascination with a specific human food? Coincidence? I DON'T THINK SO!