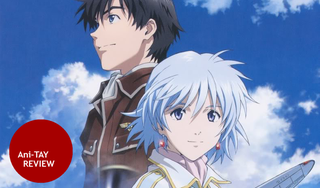 Planes, romance, and adventure; I might as well be in heaven as I jump into The Princess and the Pilot, a fantasy romance adventure film. It's exactly what it says on the box: there's a princess, there's a pilot, and there's gloriously animated planes.
First off, I'd like to announce my new hybrid reviewing system. In addition to my usual Good/Great/Bad/Verdict categories, I'm also going be adding an Ani-TAY review card and Ani-TAY logo to my header images. I've also adapted the TAY review images for my own system. I hope you all like it.
The Princess and the Pilot is the first entry in what is referred to as the "Pilots" franchise, which also includes the anime television series The Pilot's Love Song. The aforementioned is currently airing as part of the winter anime season and is on my Five Anime of Winter 2014 You Should be Watching list, so go watch it if it sounds good!