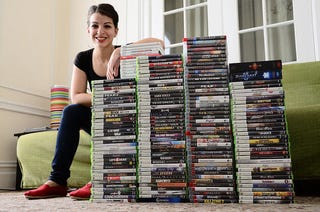 The second installment of Anita Sarkeesian's much praised Kickstarter project was released yesterday but everything surrounding this project and the videos themselves just seems off
On May 17th 2012, Anita Sarkeesian created a Kickstater that wanted to showcase how sexism existed in gaming today, a noble goal to be sure. This project, sexism in gaming and Anita herself all inspire very passionate feelings but after two videos and roughly 40 minutes I can't see this project going better for anyone who is engaging with it. So much of the events that transpired between Sarkeesian, internet commenters and the gaming press worked to create a perfect storm; the results of which has made everyone seem a little foolish.
It's very hard to disagree with Anita Sarkeesian these days but not because she is right. Commenter PorcoRosso pointed this out yesterday, but every time Sarkeesian's videos come up in gaming press there is such hostility between her supporters and detractors, that rational arguments and counterpoints are left by the wayside. I don't agree with the majority of Sarkeesian's work and many of the examples she brings up don't strike me as overtly based in sexism. However I also don't begrudge Sarkeesian for trying to point something out and she deserves respect just like any other human on the planet. I can even agree that some sexism does exit in gaming I am just trying not to throw the baby out with the bathwater.