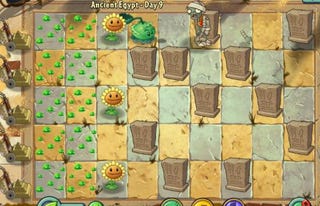 According to circulating reports, EA, once again boldly showing the world that they truly know how to manage Free-to-Play games, has decided to cut down a gameplay feature prominently showcased in the Plants Vs. Zombies franchise — by making the player pay for each lawnmower, every time they play a level.
This new, fun mechanic, introduced in Plants vs. Zombies 2, was brought in through a recent update to the game, which also brought about the recurrence of the Zomboss. Each lawnmower costs about 2000 coins, which is a great deal of in-game currency, and you must buy them for each level you play on. Not just a level you failed. Levels you have already conquered, without using a single lawnmower on. Some also claim this update made retrying failed levels also cost in-game currency.
This news comes after the recent backlash that Dungeon Keeper has been receiving for being too money hungry and preying upon people's impatience, as mining a single block will take hours. However, EA has been on a roll in the Free-to-Play market, especially with the huge success that was Star Wars: The Old Republic, and its fabled Free-to-Play restrictions guide, which gives Free players only two quick-bars, and allows only 2 characters.