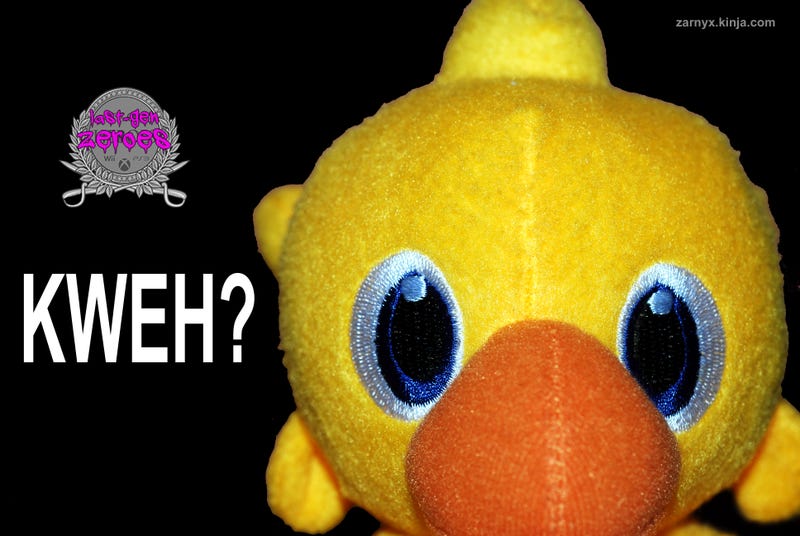 I am very much a creature of habit. I found my preferred genre of games in 1997 when I laid my hands on Final Fantasy VII. However, it was not love at first play. It took a frustrated break and a determination to understand what I was doing to develop that love. When I finished it, I knew that the JRPG would be the type of game that I would seek. I knew then too that Square would have my loyalty. In looking at my library from the PSOne and PS2 eras, there are a few different genres strewn in as well. There are my fighting days in Soul Blade and Tekken. I would cringe as a "backseat" player to the Resident Evil series. Farming was fun with Harvest Moon… and cooking with the Wonder Chef in the Tales series makes an appearance as well. It is clear, however, that Square dominated my decision making in buying games.
Then there's the one other consistent in my library as far as developers goes. Naughty Dog made a friend in me with Crash and later, Jak. My PSOne and PS2 eras were ruled by these two companies but of the two, it was always Square I gravitated towards with a general blindness. Even with Final Fantasy VIII being my biggest disappointment, Square gave me some of the best memories in Final Fantasy Tactics, Brave Fencer Musashi and Threads of Fate amongst other things. They continued the fanfare into the PS2 with Final Fantasy X and XII.
I heart you, Basch but I heart Auron more. I'm also pretty sure you'd lose this fight.
Square had always been that sole incentive for me to buy any new Playstation console. The decision to purchase my PS3 was no different.
In looking at my console list of JRPGs for the PS3, what I see is sadness. Did I really only purchase three JRPGs by Square? One of them that broke my PS3 80gb during my 40th hour of play; and the spinoff I only bought because it may have gotten decent enough reviews? They also put out Nier (which I didn't play yet but I am looking forward to it). The number of JRPGs I got from them is not important here. It's my disappointment in Final Fantasy XIII that matters. That's also not to say I have all this dislike forthat particular entry. I would faster say that I have no emotional attachment to the game besides some fleeting fondness for the interesting story presented in Sazh. I acknowledge that I would be unfairly stating nothing but grief for Square because while I may not have had many console games to play by them, they gave me some fantastic portable titles on the DS and PSP.
It was during the last gen though that my general interest in Square declined significantly. And that's to say that personally, my "Christmas Morning Opening Presents" type excitement and fascination with them is no longer there at announcements they make. I always say that one bad album should never erase a band's credibility (hey U2, I'm looking at you for that debacle you called your last studio album) for all the years of good they've given.
There are more some where but these were truly glorious days.
So why then, would the same not ring true for a company that gave me so many other excellent gaming experiences? Their extensive library has probably produced more good than bad. Is it the lack of delivery on promises made so many years ago of games to come but have yet to make an appearance that has my faith wavering? Or maybe it's that other developers are just making JRPGs that are more appealing for their stories and characterizations?
There's something to be said about games played in recent memory - With everything so fresh in the mind, it's easy for me to forget past offerings in a blind rage. It's an awfully fickle way of thinking but then it can also be said that it's the past that I hold on to sometimes. A past full of consistently amazing greats such as Chrono Trigger and Final Fantasy X often has me forgetting the other things Square has done. Sure I played the amazing Dragon Quest games all released/re-released for the DS. I also played some good entries of Kingdom Hearts but those things were not Final Fantasy. Those games were also not on my PS3 - the machine I bought specifically to play games from the company that rarely disappointed me in the past.
Then there is Naughty Dog. During the PS2 era, Jak and Daxter were my heroes. Before those two, I spent countless hours spent cart racing against my sister the Polar Bear pup with Crash. But Jak and Daxter moved beyond the silly collection of wumpa fruit (to the awesome collection of precursor orbs) and mere platforming. With the weaponry, a story of dark eco bringing out the darkness in Jak and stepping lightly into a more adult-oriented world; Naughty Dog headed into a new direction and one I welcomed.
Taking it one step further into the PS3, Naughty Dog created a couple of series and saw them 'grow up' by way of storytelling and execution, in a sense. No longer were there the child-like colours and backgrounds of fantasy worlds or Aku Aku spirit masks. In its stead, treasure hunting, the supernatural and globe-trotting were presented and infiltrated my world in Uncharted. Emotional, human driven stories and nightmares await me in The Last of Us. I never thought the day would come when I would hesitate to play a Naughty Dog game on account of being too scared.