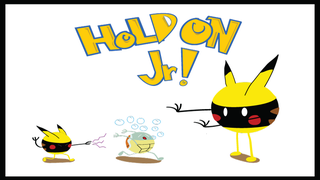 Welcome to the Unofficially Official Unofficial web-comic of TAY "HOLD ON Jr!" . Confused? I BET! All will be explained below but for now enjoy!
"HOLD ON Jr!" is an all ages web-comic about a father spreading the joy (and pain) of all things nerdy to his son in odd and surreal ways.
So what makes it Unofficially Official Unofficial? A couple reasons.
1. I'd love to keep posting this here if possible, but if the powers that be say "no go" then that's the end of that :/. But come on look how cute it is ;)
2. I'm no artist as you can tell by the extremely minimalist style of the comic :(, but I'm learning, and because of that it takes me an embarrassing long time to even do something this simple. So while I'd love to post 1 every week, this may vary a bit.
&
3. I also post this comic on a website called Tapastic.com which I consider the official home (for now) and will probably post the comic a day earlier there than here. Reason being I hope to do this for as long as possible, getting better as I go. And if this turns into something bigger than what I expected, I may not post it here anymore. But I'm not holding my breath. Tis only a dream~