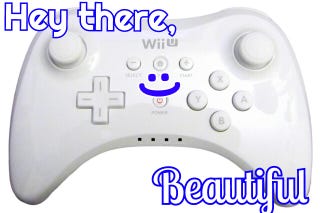 I have to write this because I feel completely alone on the subject. I know not everyone will agree, and thats why we have comments. I am down to discuss this.

Also, if I end up writing more defense posts, I'm calling the series "Indie Fence" because puns have amused me since the moment my daughter was born and ohGodhelpmewhathaveIbecomebesidesobviouslyafatherbutseriouslyamIcursedtonowenjoythesamedadjokesIusedtorollmyeyesatwhatislifenowifnottorture.
It may be best to begin clutching your pearls and preemptively removing your monocles now because what I'm about to say may come off as the biggest controversy since the suffrage movement:
I love the Wii U Pro Controller.
Let's back up a bit...
When the Switch was announced, there were plenty of comments praising the placement of the analog sticks. Gamers all around seemed to love the fact that Nintendo finally off-set them, similar to XBOX or Nintendo's own GameCube.
But the thing that struck me about Switch, was the similarities to the Wii U GamePad prototype, seen here:
Other than Switch's sticks being akimbo (or assymetrical, if you're the type of person who remembers the meaning of akimbo) and Wii U's being parallel, you can see the similarities.
Obviously the GamePad went through some revisions before becoming the controller we all know and avoided purchasing:
If you don't immediately see it (beside the circle pads becoming true analog sticks) allow me to enlighten you with my Sherlock-esque skills of observation:
They moved the sticks slightly out and the D-Pad/buttons slightly in. They claimed this was for comfort, which makes sense when you think about the way thumbs move diagonally (and not by dislocating and sliding straight up and down).
Another change made, that you can't see in the pictures, but can trust my all-knowing wisdom on, is the addition of grips to the back (similar to the "Puppy Controller on Switch). Again this change was made for comfort, as the smooth flat surface of the prototype would be uncomfortable after extended use.