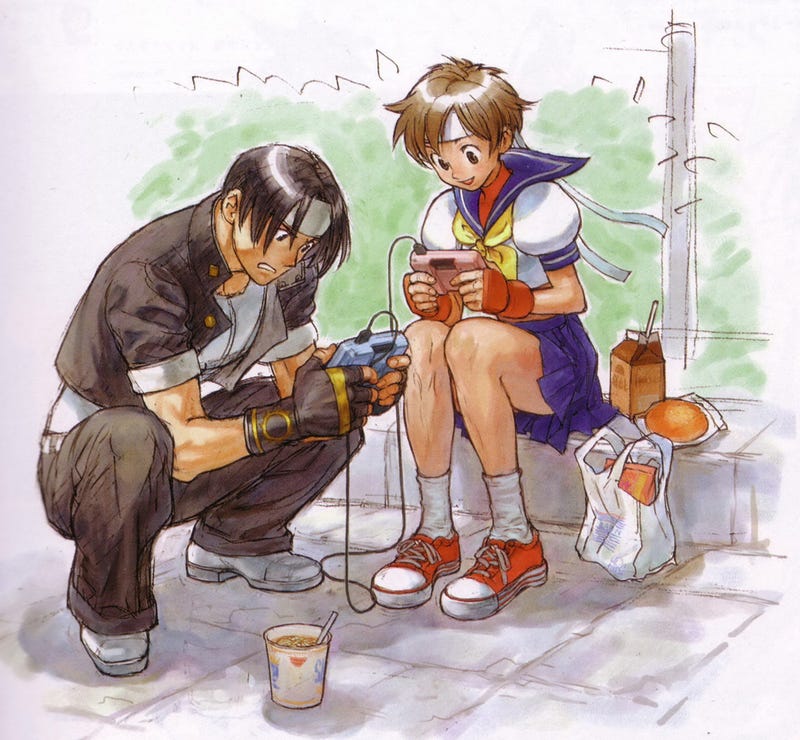 Welcome to the Graveyard Shift! Hosted by Kotaku's reader-run blog, TAY. A place to talk about life, video games, or anything. So feel free jump in the topic, or not ¯\_(ツ)_/¯. Be sure to check out created articles on TAY or the random blips of TAYCLASSIC. Also we have a This is for you! The Late Night / Early Bird / Office Drones/ Sickbed / All-Nighter / Old World Citizens / Future Warriors!
Art by the talented Kinu Nishimura
Tonight's Shift... Fight Together
Hey fellow TAYers, how are you all doing tonight? Hopefully not stuck somewhere that isn't home >_>;
If you are feeling a bit of the blues, lets fight it together. Or at least reminisce at some good o'l fighting. Since during the weekend I came across my old copy of Capcom Vs SNK, and brought back a lot of memories of my older brother. See, we used to play a lot fighting games aside from the rest of genres, and this is one of them. It was a brotherly competitive rivalry at every punch. But it never soured us, as we always had a blast at the end. It was nice to come across it, and hopefully this week I'll get a chance to rekindle that competitive brotherly spirit.
So the topic is, is there any of you have any particular experience be fighting game or any kind of game that you only could relish with someone else? Maybe it turned out to be that special someone? If not, feel free to talk about how you spent the weekend or how you played the nights away. So TALK AMONGST YOURSELVES!
That fighting music...
The Graveyard shift is not responsible for the can of whup ass your rival dojo delivered!

"The Graveyard Shift, because its only 4 AM!"