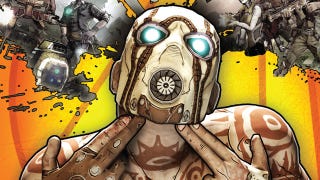 Lionsgate announced today that they will be developing a film adaptation of Borderlands with Avi and Ari Arad producing. Avi has produced Spider-Man and Iron Man, as well as terrific films like Bratz and Elektra. But in all seriousness, this could be pretty awesome!
"We believe that we've brought together the right partners, the ideal creative team and the perfect property to launch a new motion picture tent-pole for a global audience," said Lionsgate Motion Picture Group Co-Chairs Rob Friedman and Patrick Wachsberger. "Part of our strategy in entering the game space under Peter Levin has been to source new brands with built-in audiences that will translate into great films and television shows. The 'Borderlands' games don't pull any punches, and we'll make the movie with the same in-your-face attitude that has made the series a blockbuster mega-franchise."

"Lionsgate has emerged as a major creative force in the global marketplace with an incredible portfolio of brands; our partners at Gearbox have pioneered and cultivated an iconic property; and Avi and Ari Arad are two of the most successful producers of action franchises," publisher Take-Two Interactive Chairman and CEO Strauss Zelnick said. "This alliance is ideally positioned to create a bold, provocative, no-holds-barred motion picture phenomenon that will delight 'Borderlands" current legions of fans and captivate moviegoers around the world."

"We're thrilled to extend our partnership with Jon Feltheimer, Michael Burns, Rob, Patrick and the amazing team at Lionsgate and join forces with Take-Two and Gearbox on this incredible property," said Avi and Ari Arad. "'Borderlands' has a unique story-driven narrative energy and rich multidimensional characters that position it to become a singular motion picture event."

"Creating, developing and continuing to build the 'Borderlands' franchise at Gearbox Software has been an incredible ride where the most powerful fuel to our engine has been the astonishing outpouring of love and devotion from the fans," said Randy Pitchford , President and Co-Founder of Gearbox Software. "It is the passion of the fans driving the growing success of Borderlands that brought what I believe to be the best team of film producers, marketing and distribution experts in the world together to deliver the exciting story and unique characters of Borderlands to the big screen."


(Taken from ComingSoon.net)
What are your thoughts? I think it could be pretty entertaining. I'm not sure it will be as easily accessible to a movie-going audience as Lionsgate seems to think, but I suppose we will see!