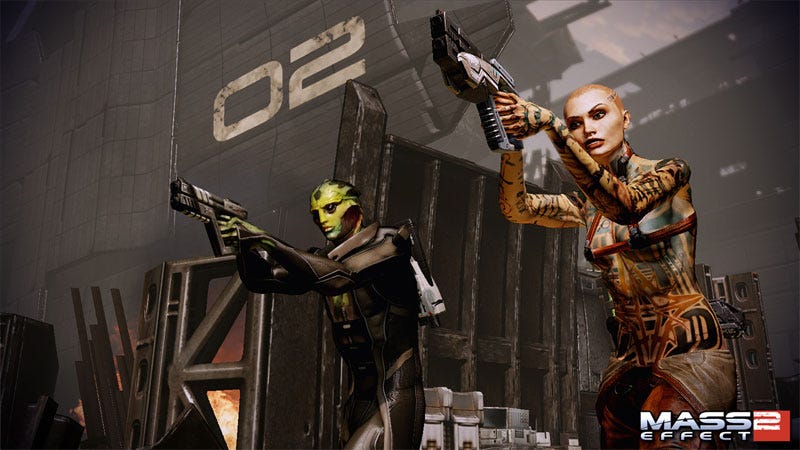 I remember screaming "GAME OF THE YEAR" to anyone who would listen—also, probably, to those who wouldn't. I'd pre-ordered it from not one, but two locations, and—hey, they had my money twice over, plus they had some soda or candy promotion I'd spent money on, DLC, etc—I pirated the game as quickly as I could when it leaked, played through about 90% of it, then started over from scratch and played it all the way through, this time to completion, doing all sidequests, not losing a single crewmember.*
Suffice it to say, I loved Mass Effect 2.
But… then, the months went by, and my reaction cooled. I started to see the cracks in the experience—the initial high of my experience rang more and more hollow. I jumped into the game several times, but never once played it for very long. The more I tried, the more put-off I found myself feeling.
So let's talk about why Mass Effect 2 is a last-gen zero.
1) What's a Bad Game, Anyway?
The other day, a few commenters complained that I'd given Red Dead Redemption a bit of a hard time. "Sure, it might have had problems," they said, but still, "there are plenty of worse games." I absolutely agree with this sentiment, but here's the deal: no one cares if there's a bad Men in Black movie tie-in, because a bad movie tie-in is to be expected. The best and worst games of this generation, in my wholly subjective, personal qualification, can be limited entirely to the games with the most acclaim or discussion surrounding them. Surely there's no need to write about shovelware, or Lair, or Haze, or anything like that, because we all accept that they're bad games.
When I think about the worst the generation has to offer, I think about the games that had a profound, but negative impact on the industry—the games that sold well and were critically acclaimed, but had deep problems that influenced our medium for the worse. I'm fairly certain Haze didn't influence the medium.
Mass Effect 2, like Red Dead Redemption, absolutely did.