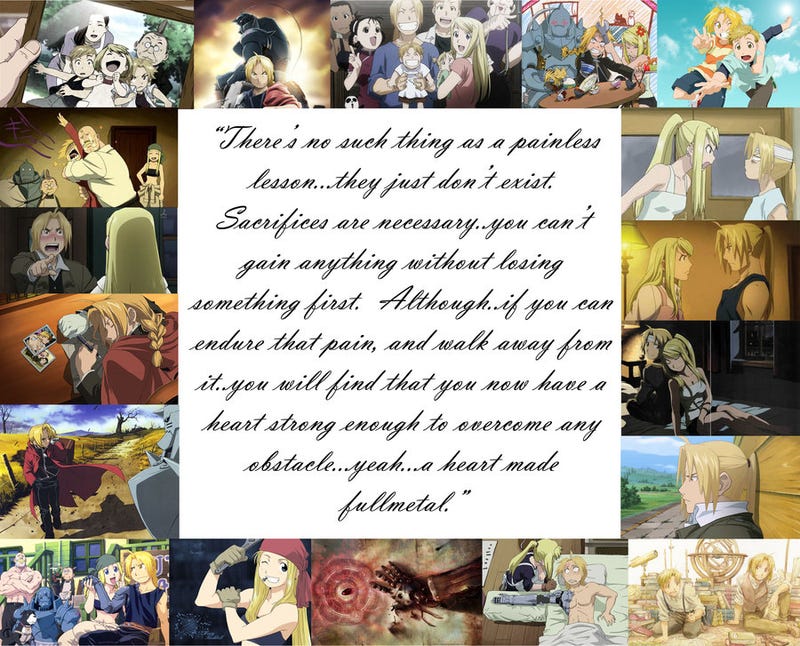 "Am I a bad person for enjoying this?"
I ask myself this whenever I start watching Col. Mustang pummel Envy into a pile of ash during of FMA: Brotherhood's most exhilarating sequences.
As you watch Roy charbroil a creature that (*spoilers!*) literally started a war, manipulated a country, and murdered one of Roy's closest friends by impersonating his wife, you can't help feeling satisfied. It's a visceral, primitive, bloodwrath sensation. And if you're anything like me, for a brief moment, the fantasy of calling fire from your fingertips dances behind your eyes: you wonder what you could do with flame alchemy. And you bitterly smirk at the reality outside the screen.
Why don't we have this power, these abilities? Why do we live on boring Earth, with all its issues, powerless?
But, as the scene goes on, that sense of satisfaction turns to unease, and disgusted horror. Mustang wanted Hughes' murderer brought to justice—and now he's so angry he can barely speak, so lividly rigid with rage that he can barely even snap his fingers. This is an execution, plain and simple. This is vengeance, a vendetta come to a head. Mustang doesn't want Envy to feel remorse, or guilt. He just wants the homunculus to burn.
You feel a queasy disquiet in the pit of your stomach, mixed with sadness. It peaks when Envy's captured in his true, tiny form. Ed's got him in his hands, and Mustang, in a strangely calm voice, asks for Ed to pass him over.
They bicker—and Scar pointedly remarks about not getting in the way of Mustang's quest for vengeance. Then, as Mustang threatens to burn Ed for keeping him from his revenge, Ed pointedly asks for Mustang to look in a mirror, to see if he's okay being king with a face like that. If he's okay with being another monster.
Hiromu Arakawa specifically drew this sequence to inspire such emotions. She wanted the reader/viewer to feel that initial sense of "kick his ass!", only to be profoundly aghast at what fury and grief can drive someone with that much might to do.