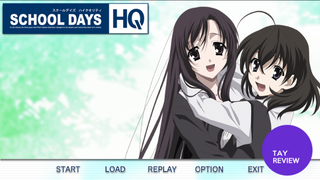 THE GAME IS SUPER NSFW. THE IMAGES/VIDEOS IN THIS REVIEW ARE SAFE FOR WORK

Note: School Days HQ is the official English port of the original School Days ero-VN.

Double Note: The game being reviewed is most definitely not for children. Or work. Seriously. Don't do it.

Remember high school? How there was always that one guy who always had all the ladies around him? How he was always bumbling, and kind of an idiot, and how you couldn't quite figure out why he was so popular? That's Makoto Itou, the protagonist of School Days HQ.
One day he sees a girl on the train to school, and subsequently falls for her. Now, this being set in Japan, there's always something silly going around the high school; some silly rumor, or charm, or trick to get the girl/guy you want to fall for you. This time around, it's a cellphone picture. If you take a picture of the one you like and keep it as your phone's background for three weeks without letting anyone else see it, you'll wind up with them.

So, our hero tries this charm, and he succeeds in not letting anyone see it… for a few hours. The girl who sits beside him, Sekai Saionji, steals his phone and looks at her and offers her help in getting the girl, named Kotonoha Katsura, and Makoto together.

Does this sound familiar? You may have watched the anime adaptation, which was also titled School Days. If you haven't, it's a perfectly normal high school romance anime with perfectly normal relationships and nothing bad at all happens. It's also available on Crunchyroll , so if you've got about 6 hours to kill, you should check it out if you haven't seen it. It's mildly NSFW, but still deals with the same stuff as the game. You've been warned.