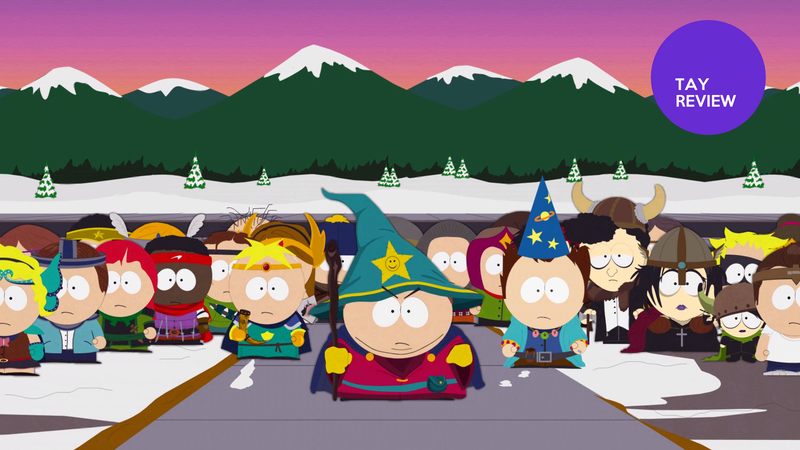 South Park is a series that's always been known for (at least) two things, pushing boundaries and bad video games. The original South Park title, released in 1998 for the N64, was my first lesson in tempering my expectations. No matter how much I might enjoy the series, you need more than that to make a great game. With that said, South Park: The Stick of Truth is, in fact, a great game. It's also quite possibly the best licensed game ever made.
The Visuals
Never in the history of gaming has a title's source material been so faithfully captured. Obsidian put a ton of work into making something truly authentic and it shows from start to finish. You've seen screenshots and videos, but to truly appreciate how well Stick of Truth captures the essence of the show, you just need to play. You'll believe you're watching a new episode, it just looks that good. The town of South Park and its inhabitants all come to life the same way they always have on TV, everything animates the same, crappy way the show is famous for, down to the most minute detail.
The Humor
South Park's trademark humor is alive and well in Stick of Truth. Series creators Matt Stone and Trey Parker wrote the script for the game themselves and it shows. I have to give publisher Ubisoft credit for not censoring this game (in the US, anyway), it definitely takes guts to release a game as edgy as this. I can't remember the last time a game made me genuinely laugh even one-tenth as much as Stick of Truth did. The only feeling I can liken it to is playing Conker's Bad Fur Day back in 2001. I was 18 then, making me laugh and feel a sense of shock at what was on my TV was easier in those days. I'm 31 now, doing that is a lot harder and yet I couldn't help but sit there, my mouth agape in disbelief at the fact that what I'm seeing is in a video game, and that said game is still rated M. You'll either laugh or be repulsed, but that's really what the series has been like since the beginning.