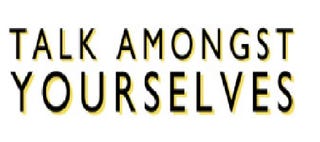 Talk Amongst Yourselves is a quaint little hovel on the edge of the internet. Where some sites have rabid, bloodthirsty denizens, TAY consists of proud beings that wish only to entertain and enlighten — through repetition and rehashing of the same subjects.
But is it necessarily a bad thing?
When TAY was formed back in the day it was created, it boasted creative, original content and featured many different articles that catered to the many likes of those inhabiting this abode. However, as technology has advanced, and our ability to pay attention has diminished, TAY has evolved to a wondrous level of Social Darwinism — over-saturating a site with one set of ideas, thus weeding out anyone else who finds anything else interesting.
Because the best way to attract new people is to never stop talking about the same things we have already covered an eternity ago.
Anime
Fun fact – Anime exists. There was a time I didn't know that. In fact, at one point I believed Cowboy Bebop was just Western terminology for rustlin' the lady-friend's cattle. However, at one point on TAY I became enlightened to what anime was. And I continued to learn what it was, and how many different ones there were; just judging from the amount of content relating to all things anime I must be missing out on quite a bit.