Welcome to the Open Forum, hosted by Kotaku's reader-run blog,TAY. Feel free to join in the topic discussion, talk about anything here, or check out the other articles on TAY, TAYClassic, and AniTAY. Is this is your first time on TAY? Then scope out this TAYTorial!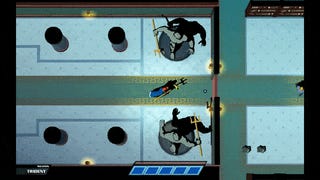 Hi TAY! How goes it?
Last week, Mr. Shifty launched on Steam and Switch. It's touting itself as a mix between Hotline Miami and Nightcrawler.

Well, that first claim is bold and some shoes to fill.
As some of you may know (XD), Hotline Miami is one of my favorite games. In short, it's a brilliant story portrayed under striking visuals and sound, and delivered in a vague, violent, and engaging way that could also be frustrating (multiple deaths and trying, trying, and trying again).
So here's Mr. Shifty saying one of its influences comes from HLM, and it shows that similarity through gameplay I've seen. That top down style and take downs. But it seems that's as far as it goes.