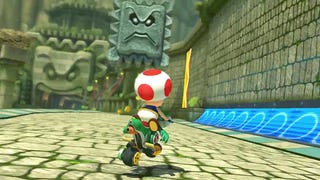 No wonder Toad's doing the happy feet... TAY Time Chat is here, what a treat!
And talking about treats, don't you guys get super hungry when Tea Time comes around? Anyway, just had one of the best days in the last couple of weeks, it has rained all day long, and even though I had plans, I don't mind staying home and gaze at the rain :3 Also MK8 reviews are out... and the verdict is: Everyone loves it! Yay~ Seriously I can't wait until E3 2014 comes and Nintendo announces a Wii U price cut!
News Round Up!
Song(s) of the Day
Dance Hall Days by Wang Chung
The Masterplan by Oasis
Mega-Thursday food related something-something!
Does anyone remember Barkspawn's post about needing a recipe to make a Strawberry Birthday Cake? Well I'm gonna give that recipe a spin (via The Pioneer Woman [Thanks Z]), in the meantime here's the original in nine easy steps: