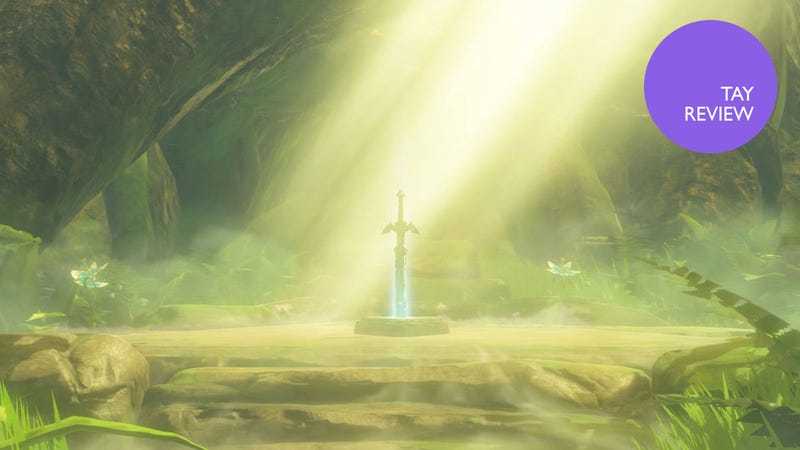 Breath of the Wild may be over a month old but it's still fresh in our minds, and will likely remain a unique experience in the Zelda-verse in the years to come.
Zarnyx and I chat about our thoughts on the music, our journeys, and the awesomeness that is Revali* in the latest entry of The Legend of Zelda series for our review.
*Nach's notes: clearly some people don't know how to spell Urbosa.
Spoiler warning: we discuss everything in the review from story, characters, locations and even the final boss.
The Adventure Begins

Nach: The Great Plateau should be hailed as the best tutorial in gaming. Period. It prepares you for what awaits you in the world below (and above). Not only it serves as a tutorial, it also exemplifies how your adventure will be. You're never tied to a single path, you can do whatever you want in the confines of the area, but as unique as it is, the journey within the elevated ridge is pretty much the same: Get the para-glider.

So instead of focusing on the plateau, let's talk about when you first stepped into the Kingdom of Hyrule.

Zarnyx: I think I followed a road, got to Kakariko or a stable, whatever, and thought… "meh, what's so different about this game anyway?" Then a blood moon hit. That startled me.
Nach: Hah… I pretty much did the same, but I had a slight detour. So as soon as I got off the Plateau, I decided to explore the area to the north, around the proper Hyrule Field. Got a horse, called him 'Neigh' cause he was ugly as hell. I kept moving north until I saw a tower in the distance, avoided some decayed guardians patrolling the tower and after much effort I managed to climb it and claim it as my own, "Screw you Ganon, this is my tower nao!". Two minutes later I was promptly destroyed by a Guardian. So I though that maybe, just maybe I should follow the main quest and head towards Kakariko Village. That whole detour didn't feel too different… it felt like a Zelda title with the caveat that anything could kill me.
So when I arrived at Kakariko and got the gist of the story and what's going on in the world after I overslept for 100 years, I went and did every single sidequest in the town, not because I was scared of the world out there, but because I am the hero and should act as one. It definitely wasn't that Guardian waiting for me on the hillside right outside of Kakariko.
Z: I think you did a lot more than I did. I didn't even hit up the towers, or make that my plan to find the towers until well after conquering my first Divine Beast. Horses? Well I caught a cookie-butt spotted one but largely just forgot everything and played the game as directly as I could, from point a to b until after Zora's domain. Then I didn't know what the hell I wanted to do. I had to force myself to come up with a plan, otherwise I would have been truly lost and confused. I wasn't having a good time because I was beginning to feel overwhelmed. This happens to me sometimes. But it's not as though Zelda doesn't give you a loose idea of what you should do—it's just how you approach it is totally up to you, whether you really want to do any of it or not. I need that kind of sanity to keep me going, so I just told myself these things.