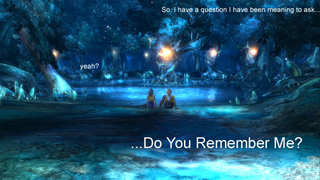 "Who am I?"
Those are some famous words spoken by one Cloud Strife.
Love him or hate him, Cloud bears a name and face that many fans of the Final Fantasy series will know. The question of "Who am I?" is something Cloud will probably never have to worry about ever again, as his place in FF history as a recognizable character has been sealed.
With the re-release of Final Fantasy X in all its HD glory this day, many of us will be playing the 2001 game for the very first time or re-living the journey from Zarnarkand to Spira. There are lots of things to love about Final Fantasy X: the beautiful art, the wonderful story, the gorgeous soundtrack! Blitzball! Yevon! And then there's the game's protagonist, Tidus.
I've seen many Internet opinions labeling him as "whiny". Hey, maybe he is! I don't really recall disliking him but there's that one thing he is infamously remembered for, and that is that strange laugh (in either Japanese or English). In that way, Tidus had something unforgettable! That's to be applauded!