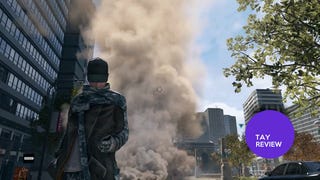 Jaded gamers often talk about an industry afflicted by sequlitis and an overall lack of originality. Ubisoft seems to have heard gamers loud and clear, releasing two new IPs in as many months. Can Watch Dogs live up to the hype it managed to generate? Yes. Yes it can.
Watch Dogs is the story of Aiden Pearce, thief-turned-vigilante who uses the city's hyper-connected operation system, CTOS, to hack the city and turn Chicago upside-down. Of course, there are various types Aiden needs to defend himself from— rival hackers, mob bosses and of course, the police.
Excellent Supporting Characters
Aiden's supporting cast is a motley crew comprised of fixers (hitmen) and hackers who help Aiden through his journey in Watch Dogs' Chicago. Aiden is joined by T-Bone, a backwoods punk hacker who loves to drink. Clara, a badass who always seems to be a step ahead of him. And last but not least, my personal favorite, Jordi a fixer who takes perhaps a bit too much pride in his work.
One of Watch Dogs' opening scenes starts with Jordi trying to convince Aiden to see the deft hand he's applied in killing a few gang bangers as he slumps one against the wall, leaning against him as he makes the dead man fire a round into his comrade. Scenes like this add a sense of personality to the supporting cast that makes them interesting.
Stealth and Action
Most missions will afford you the opportunity to make the choice to charge in guns blazing, or skulk around the area dropping lures before escaping quietly to create chaos with the help of hacked security cameras. Having the choice itself is extremely gratifying, and Watch Dogs does it quietly, which is something I appreciate.
Shooting is satisfying in its own way as well, of course. Despite Stephen's disappointment with guns in Watch Dogs, they're very well done. Aiming is spot-on, and the control scheme will be instantly familiar to anyone who's played a third-person shooter in recent years.