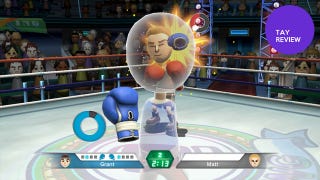 Legend tells of a game. A game so accessible to young and old, experienced and inexperienced alike that it became the second best selling video game of all time. That game is Wii Sports. While this motion control buffet was bundled with the Wii for the majority of its lifespan, it's still an impressive feat to sell more than 82 million units and reach so many people. Nintendo had caught lightning in a bottle, and the bottle was for sale. I'll never forget the first time I picked up a Wii remote and swung at that oversized tennis ball.
While Wii Sports Club has been in Wii U players' hands since last fall as an eShop exclusive it has only now hit store shelves as a $40 bundle of somehow-already-nostalgic-inducing glory. So put on your sweatband, because it's time for round two.
Tennis
Tennis! You serve, the ball comes back, you hit it over the net again. And repeat. There's not much to say about it besides the fact that it's still fun and makes for the best "pick up and play" experience (as bowling can take too long). Slamming a well placed shot is still more enjoyable when your opponent is standing next to you, but there's an odd rush to destroying strangers online in such a peaceful sport.
There's also a whack-a-mole type training game that's extraordinarily addicting. If only I had a better back hand...
Bowling
Easily one of the most accurate and satisfying of the five sports. While I can't say it's much different than the bowling included in Wii Sports Resort, it still has some seriously tight controls. It should also be noted that multiple people can play with only one Wii remote, making it the go to for those who are lacking an arsenal of controllers.
Baseball
America's favorite past time is likely my least favorite sport to watch in real life. I'd rather watch curling. Honest to god, curling. Playing baseball, on the other hand, is a different ball game (GET IT?). There's nothing quite as satisfying as knocking one out of the park, be it in the real world or a virtual one. Batting has been improved slightly with the motion plus interface, though there is still a bit of lag on faster swings. Luckily it's not too hard to adjust your swing on the fly.
The real change here is the pitching and fielding, which have been completely overhauled with GamePad support. Pitching has lost a bit of its pizazz with a lack of actual motion, but it's given players more options in the form of alternate pitches, speed and accuracy. The new power meter is a nice touch and adds to the overall feel of slinging in a strike. In the past all fly balls would be caught automatically by the nearest Mii, but this time around you have to actually hold up the GamePad and position it for the catch. It's fun, though it makes me pine for my favorite slugging sim, Rusty's Real Deal Baseball.
Family Fun
Like most people I do have an extended family, unfortunately they don't live near me. My household consists of a wife and a dog. A dog who is terrible at video games. I didn't play Wii Sports Club with my family, but I can tell you that much like the original outing it is a game that works well in a family setting. It's simple, competitive and kid friendly. If you're looking for a game to play with your younger kids or aging parents it's a solid choice.
Golf
I am terrible at golf, let me just put that out there. I've probably played a real round of golf three times in my life and not once did it go well. I am, however, pretty darn good at the Mario Golf series. Going into golf I had a feeling it was going to be more like real world golf and I was painfully correct. Golf in Wii Sports Club has the most creative use of the gamepad, the best looking environments and most relaxing gameplay. But I couldn't hit a straight shot to save my life. Golf is all about control and accuracy. I have neither. Plenty of folks could have a blast with golf in Wii Sports Club, but I'm going back to World Tour.