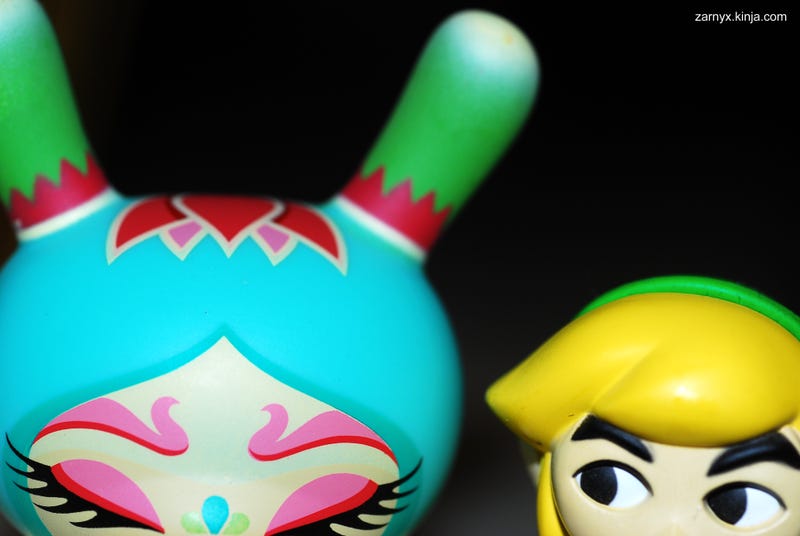 Your humble abode: it's just one room and you. There's a single-sized bed with other modest furnishings in a lone table and two chairs. Some paintings hang on the walls, three pots on the lower left line the wall in a most unassuming fashion, and a mask adorns the opposite side of the room. Not far north stands a grand castle and to the west, a quaint village with its laid back atmosphere found in its milk bar, farm, citizens and cuccos happily clucking while roaming free. Everyone knows your name but you prefer to live the solitary life with your late mornings, and idle thoughts of becoming a Blacksmith.
Your house that sits on a hill, has a scarecrow outside near the front door. A tiny blue bird nestles peacefully in its hat and neat rows of bushes keeps them both company. There's not much else here and these are your humble, carefree beginnings. Perhaps it is that you're just content living a simple existence with no real direction and no real responsibilities. No responsibilities that is until a seemingly easy errand puts a sword in your hand, and a chain of events ensures that a legend is reborn! You're going to need all the help you can muster. It's dangerous to go alone, they say. But who's this? A purple rabbit willing to aid you on your journey? Bunnies are so mild-mannered, what could possibly go wrong…?
The Legend of Zelda: A Link Between Worlds brings our favourite hero clad in green back to the realm of Hyrule. With him comes an entire arsenal of weapons - familiar, improved and more brilliant than ever - with new tricks and beautiful ways to use them to solve some masterful puzzles. There's a new system of renting these items and well, a shady new black market type fiend to greedily oblige in overseeing that profitable process.