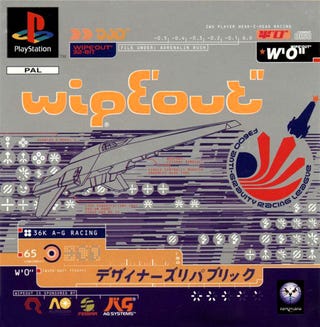 Where does time fly? Or maybe it just hovers really fast like an AG racer?
On this day back in 1995 the future arrived in European shops. And it was bright, fast, sharp, filled with lights and rhythm. On the vanguard of the 3D revolution was one of UK's brightest developers, Psygnosis.
It was no easy task bringing the original vision of electronic music fuelled SNES Mario Kart sessions from Sony's dev kit and onto the original Playstation, but they did it. Add tons of flare by The Designers Republic and the fantastic soundtrack by CoLD SToRAGE and you got yourself the perfect mix for a classic. That's exactly what WipEout became by bringing the future into our homes. I guess it was also not bad it brought along music from the clubs either.
A prized part of my Wipeout collection, the odd one out that most people don't remember it exists. Fun fact: the tracks are made from bits of tracks from Wipeout 2097 / Wipeout XL.

Buying that game changed my life in ways that I previously documented (exhibit A, exhibit B), but to keep the story short, the game seeded Shiryu Music, a hobby that keeps on going strong for some odd 15 years later.
While the future of the franchise remains uncertain, let us celebrate it's legacy in our own way. From me, here is some free music: Both my albums The Wipeout Legacy from 2008 and it's sequel The WipE'ouT''Legacy HD will cost you nothing if you so wish it for the next 24 hours, so hurry up and snap these in high quality if you haven't already.
Now it's your turn! Hit those comments below and tell me your memories of WipEout! Don't blink or you will miss it.

*OMAKE* The CGI vision of WipeOut about a whole year before the game was completed from the infamous cult classic movie Hackers.