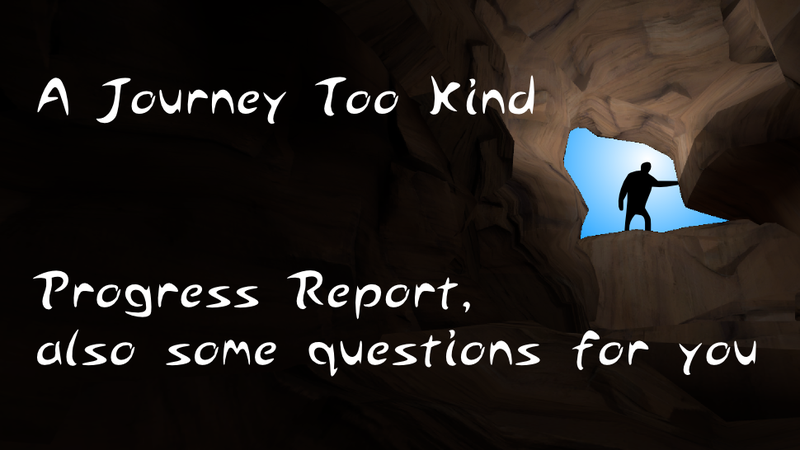 It's been a while since I gave you some info on my video game project. I felt that now is the right time to give you an update on the current status of the project.
Once I released the first gameplay video, I took a break from the game for a number of reasons.

I was waiting for feedback on the video as well as on the game's concept in general, and although I received very little feedback, I got it. The general concensus was that, while the game is lovely and all and the "no Level-up" thing is interesting, it's also kinda dull. Because really, who wants to farm for treasure for hours on end?Of course I could always say that the beginning is always a bit boring and later on it gets better with more features unlocked. But the game lacks some more variety in general, so I've been hard at work to make the experience more worthwhile.


Another reason for my hiatus was that I were looking for an artist - the only thing that keeps the game from feeling original are new, shiny sprites (I used placeholder graphics up until now).
Well guess what, I found one recently - or rather, I'm currently negotiating with someone. The problem here is that the artist demands money for his work - understandable, but this is my very first project, and I don't have thousands of dollars to spare.But I figured out a deal with him, which is a bit risky, but it's still my best option right now.
_________________
Overall, I'm still working on it, and with the prospect of an artist joining the team (we're 3 guys now: Me, a musician and the artist), the game can actually find its way to completion. But there are still some obstacles before us, and you can help us overcome those by answering the following questions.
Which crowdfunding website do you prefer?
In order to pay the artist, as well as dealing with some other costs, I was considering to start a small crowdfunding campaign. Which platform would you prefer or recommend for this?
I'm asking this mainly because none of us in the team lives in the US/Canada/UK so we can't start a Kickstarter campaign, so we need an alternative. Indiegogo was my next best bet which has the advantage over Kickstarter to support PayPal in addition to credit cards. I know there are people out there who hate to use their card online or just don't have one, so this would be a big bonus.
Any other suggestions, or would Indiegogo be acceptable for you?


For community feedback and project info, do you want a website with forum, or are other places enough for you in this early phase?

Up until recently, this project wasn't all that serious (business) to me, but now that money comes in with the artist's payment, there's no going back.
Sadly, I haven't really prepared a hub for the game where most of the news and community work happens. Ideally a website and a forum would be required for this, but because of the "no budget to little budget" nature of this project, I don't have one ready and probably won't have within the next few weeks.

The question here isn't IF a website will come, it will come eventually. It's more like how fast and how desperately you want one. Can you wait for it until the (hopefully successful) crowdfunding process is complete, and with the knowledge of having a fully working team, then we can start building on our infrastructure. Or do you demand it even before the crowdfunding?
_________________
Thank you for your time and answers in advance. Should you have any other questions, feel free to ask them and I'll try my best to answer them.