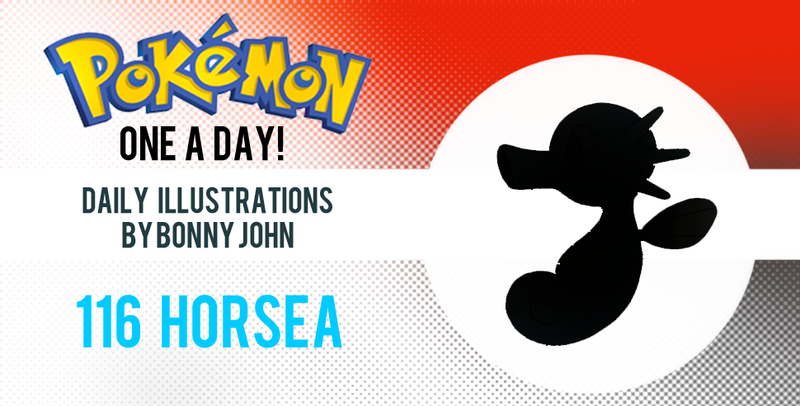 Dragon Pokemon
Water Type
(Same Day Edit (11:51 P.M) Based on some feedback by a few of you TAYers/Art critics, I've made some changes to Horsea! I won't say what I changed exactly, but the work has been updated to accommodate with the suggestions I agreed with. The last image in the WIP shot below was the old Horsea, so you can compare the new version to that one if you're curious!)
Wait, Horsea's a dragon?! I call shenanigans! Let's take a closer look at this creatively named sea horse on today's Pokemon One a Day!
So Horsea is very well a seahorse, stylized as a chibi representation of it's real world counterpart. I've presented some realistic and semi/pseudo realistic works here before, and Horsea follows suit in her own original way. How I approached this style was practically fusing the creature as it looks in its original form to that of a real world seahorse, in a way that blends the rendered style onto a chibi wireframe.
The work otherwise was very simple to execute. The pose and presentation of the Pokemon is in side view, and fights to be both flat but have some sort of spatial depth as well. The representation is painted in a semi smooth fashion, with visible paint marks that add to the ridigty of all the bumps and groovesof the Pokemon, and I think the piece is stronger because of it.
The fine and thin outline defines the Pokemon as the surface of the creature seems to jut out with the help of burn and highlight tools. Where I took liberty with the design was adding ridges to Horsea's horns and adding a bit of a groove that the fin is rising from. The finn was designed to look almost like an insect or faery's, as referenced from the original design. Other than that, the piece gives proper nods to the rest of Horsea's design.
So there you have it! How do you like Horsea? Stay tuned tomorrow for it's evolution as we continue along Pokemon One a Day! Thanks for stopping by!
Yours,
Bonny
+ Pokemon One a Day is a series illustrated and curated by Bonny John in an effort to represent the the first generation of characters from the world wide phenomenon that is known as Pokemon. The idea is simple - to draw and share one new Pokemon a day (weekends off!) until every Pokemon from the set is completed. This project is an exploration of fine art styles for learning and leisurely purposes.
+Click here to visit my personal website! It'll direct you to my YouTube, FB, Twitter, DeviantART, and Tumblr pages!