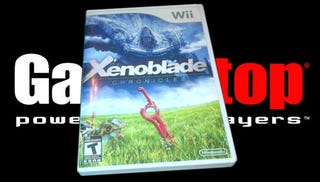 About 30 minutes ago, I made my first-ever GameStop purchase: a copy of the hard-to-find Wii title Xenoblade Chronicles, pictured here. This came about after a post on GoNintendo alerted me to a new thread on NeoGAF reporting copies of this rare game were showing up at GameStops across the country and even available on their website.
I was dubious, as I have visited GameStop locations in five states trying to find this game, and frequently checked online, without success. Used copies could be found on eBay and Amazon for $100 and up; unopened copies, where available, were asking up to $250. I really wanted this game, but not THAT much.
I happen to live across the street from a small GameStop, so I called them and yes, they had "one" copy left. I ran over there and picked it up. It was $90, and labeled "Pre-Owned".
I think this claim is bunk.
For one thing, the clerk told me GameStop had "suddenly come across thousands of copies" and was making them available, and he didn't specifically say they were raking these in from gamers who no longer want them.
Then I got it home and inspected it carefully. The box shows no signs of wear and tear, nor does the disc. The instruction manual snapped open and still has that "new glossy paper" smell; it may never have been opened.
Most damning, though, was the card with a Club Nintendo PIN. I went to the Club Nintendo site, logged in and entered my PIN — sure enough, it gave me the little first-time buyer survey and credited my account with 50 coins.
I suppose it's possible Nintendo and GameStop have some agreement that has GS slipping Club Nintendo inserts into these copies of Xenoblade. But what seems more likely to me is that GameStop came across unsold stock somewhere, realized they could fetch a premium, and cashed in. Heck, they got me in the door.
In spite of all that, I don't mind too much that I paid a nearly 100 percent mark-up for a new game. I do regret that I didn't pick it up when it first became available; at the time, it was a GameStop exclusive (which might explain its relative rarity) and I just assumed it would eventually be available elsewhere, and probably cheaper. I made the same mistake with the Metroid Prime Trilogy, so now I'll probably shell out too much for that game as well.
Looking at my exhaustive "wish list", which includes more than 350 games I hope to purchase someday, there are several other titles fetching top dollar for new, unopened copies:
Super Smash Bros. Melee (GameCube, $199)
Metal Gear Solid: The Twin Snakes (GameCube, $170)
Super Robot Taisen OG Saga: Endless Frontier (DS, $165)
Dragon Ball Z: Budokai Tenkaichi 3 (Wii, $160)
Super Mario Sunshine (GameCube, $140)
To my fellow collectors, what's the most you've ever paid for a hard-to-find game, console or accessory?