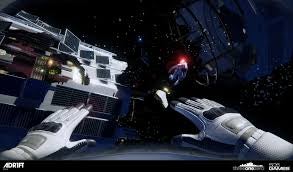 ADR1FT is an upcoming FPX game from studio Three One Zero and publisher 505 Games. If you haven't heard of it, here's the official description from the game's website:
ADR1FT is an immersive First Person Experience (FPX) that tells the story of an astronaut in peril. Floating silently amongst the wreckage of a destroyed space station with no memory and a severely damaged EVA suit slowly leaking oxygen, the only survivor struggles to determine the cause of the catastrophic event that took the lives of everyone on board. The player fights to stay alive by exploring the wreckage for precious resources, and overcomes the challenges of an unforgiving environment to repair the damaged EEV and safely return home.
Last month the developers announced a partnership with Image Comics and Top Cow Productions to release a comic series based on the game. The first issue, written from the point of view of protagonist Commander Alex Oshima, has just been published and is currently available for free download at adrift.com. It's relatively short and, unsurprisingly, a bit exposition-y but also offers some neat insight into a couple of the characters so if you have a few minutes give it a shot!

ADR1FT will be released on Steam, PS4, and Xbox One this September.