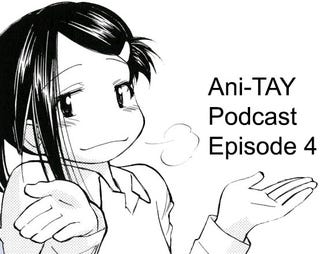 Ani-TAY Podcast Episode 4 : Summer Time
Ladies and gentlemen, boys and girls, beautiful people across the whole wide world (credit to Day[9]) Enjoying your summer ? Well it'll only get better with this episode of Ani-TAY Podcast! Special guest this episode is our own MainProtoganist.
So we thought we'd switch it up a little for this episode since we're on the verge of a new season. We decided to do a retrospective view on our spring picks 4 months ago and say how we feel about the show in the end, after the season has ended. Only to pick ourselves up again and say top shows that aired during the spring that we thought were good!
After that we thought it'd be fun to do it again, and do a summer preview on shows we expect to have fun with! Hindsight is a wonderful thing isn't it?
Note on this chart. As you can see, it shows what we were all watching in the spring, and in the summer chart will be updated as we go into the future, so the summer chart is just an idea of what we're all watching, but I'm certain a few of us haven't finished our summer list.
As always you can subscribe to us on iTunes here
Or download the mp3 for all your other devices and needs (Right click, save link as) here
You can also subscribe to our RSS feed here
Chapters
Intro – 0:00 – 2:55
Richards Pick – 2:55 – 20:47
Davids Pick – 20:47 – 45:55
Marcus Pick – 45:55 – 1:03:09
Kens Pick – 1:03:09 – 1:10:33
Marcus Summer Preview – 1:10:33 – 1:14:23
Davids Summer Preview – 1:14:23 – 1:20:40
Kens Summer Preview – 1:20:40 – 1:24:37
Richards Summer Preview – 1:24:37 – 1:33:00
User Comments – 1:33:00: 1:35:00
Outro :135:00 – End
P.S Hey everyone! Fruity here (who else?) just wondering do you guys want the chapter notes? I understand in this episode it doesn't really matter, but for later episodes where we will discuss spoilers in certain shows during a season will make sense. Anyway just wanted to know and see if I can cut some work for this. Anyway hope you guys enjoy the episode! Look forward to seeing you again!