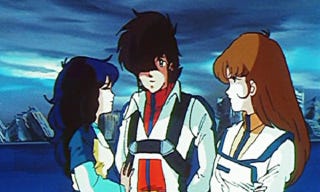 Come join us in the Ani-TAY Café: your stop for discussing all things anime, manga, visual novels, and anything Japan. This week the Café has the new contributors to our establishment and an open discussion about anime from the pre-millennium.
Screencap from Super Dimension Fortress Macross, adapted in the West as Robotech.
This is a weekly discussion for all things Ani-TAY. The Ani-TAY waiters (writers) can coordinate on all things Ani-TAY and the customers (readers) can participate in discussions on anime.
---
The New Staff:
The new staff are new writers that have contributed since last week.
---
Around the Café:
---
Today's Special:
Up until the late 90's, anime enjoyed almost no public exposure here in the United States, much less so in other parts of the west. What we did get was heavily edited for western audiences. One such series was Super Dimension Fortress Macross, which never reached the west in an unaltered form. Instead, we got Robotech, a series that is polarizing among anime fans. The script was altered to make Macross the first of a three part anime saga, followed by two completely unrelated anime series that were altered to be a continuation of the show.
Eventually though, anime took off in the west. In the late 90's, an inexplicable rise in popularity brought anime and other Japanese media into the mainstream and it became profitable. At least some credit can be given to Cartoon Network's Toonami, which successfully brought anime to the television on a well-known and distributed channel. It became the new home of a budding generation of anime fans across the United States.
That brings us to our discussion today, were you around during the great anime surge of the millennium? If you were, what shows did you watch around that time that you liked? If you weren't around for it, then just go ahead and tell us when you did join the craze.
Don't like today's special? Well there's plenty on the menu, so take a walk around the Café and talk with the other customers. Talk about anything.
---
Remember that the Café has a selection of assets for your Ani-TAY article writing and spreadsheets for coordinating with your fellow Ani-TAY writers.
Credit to FruityDrinks for demanding that the title rhyme, which directly led to this becoming the theme for all future Ani-TAY public topics.