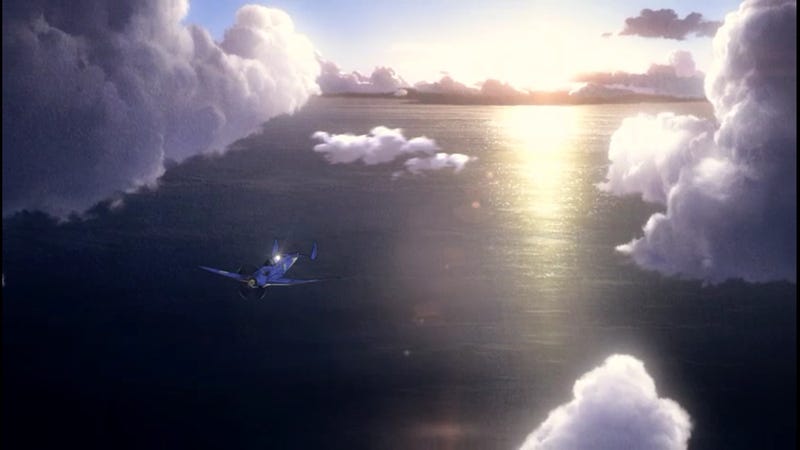 Come join us in the Ani-TAY Café: your stop for discussing all things anime, manga, visual novels, and anything Japan. This week the Café is discussing art. Yes, let's discuss those beautiful backgrounds that we see every time we watch anime.
Screencap from "The Princess and the Pilot".
Quick aside, I'm so close to vindicated! So close!
[10:50:49 AM] RockmanDash12: That was a bad idea... Doing an all nighter for muv-luv

[10:51:00 AM] RockmanDash12: >_>

[10:51:06 AM] David: And?

[10:51:56 AM] RockmanDash12: Alternative is amazing.

[10:52:11 AM] RockmanDash12: I just got through the coup de tat

[10:52:24 AM] RockmanDash12: I couldn't find a good place to stop :|

[10:52:42 AM] RockmanDash12: The last game I pulled an all nighter for was Civ
---
Around the Café:
---
Today's Special:
Obviously we enjoy anime for a bit comedy and drama. That's what keeps us coming back for more, but it certainly doesn't hurt to slip in some precision scenery porn to reward the audience. The anime industry has proven itself to be capable of many very excellent examples of animation. While these examples are usually restricted to anime movies, the television shows aren't exactly scrappy either.
Take the final moments of The Pilot's Love Song or several scenes of White Album 2 for example. There's plenty to love here from the epic plane animation of Love song to the vibrant and artistic White Album 2.
So that's today's short topic in a nutshell. What shows and anime movies have you watched that have had exemplary animation?
---
Want in on the Ani-TAY action? All you need to do is follow this tutorial and tag your article with Ani-TAY in addition to the other tags you see fit. Also remember that the Café has a selection of image assets for your Ani-TAY writing needs and spreadsheets for coordinating with your fellow Ani-TAY writers.
Come join Ani-TAY on MyAnimeList too! We've got forums set up to discuss the ongoing anime this season and you'll get a sneak peak at the Ani-TAY community views on shows of the season long before the reviews come out.
Remember to visit TAYnami for even more weekly discussions about our favorite medium: anime.
Get in touch with Dexomega or Fruity (vespire50) on Skype so you can get added to the Ani-TAY group. Among other things, the Ani-TAY Podcast may just randomly pull from this group to participate in the After-Hours segments.