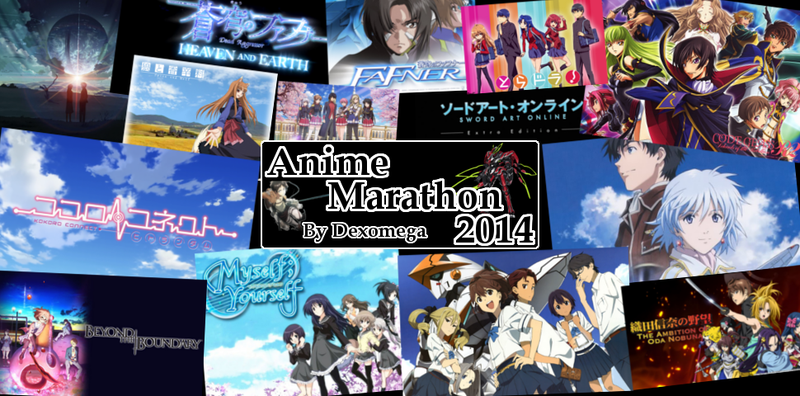 Two months already? Wow, I barely even noticed the days pass. Today I'm recapping the review marathon for the first leg of 2014. As usual, expect a list, hints at the future, and my favorites from this batch. You all ready?
If you have no idea what I'm talking about, this is Anime Marathon 2014! The marathon is an extension off of last years Anime Marathon 2013 by popular demand. I'm reviewing every anime I can get my hands on for the TAY community and reviewing them faster than should probably be humanly possible. This is the recap of what I've watched the last two months.
By the way, fitting all those images into that header was a pain this time! So many!
---
January Reviews:
February Reviews:
---
The Awards:
The Biggest Winner: The Princess and the Pilot
While it wasn't the best story, nor the most original one, The Princess and the Pilot was an excellently executed anime movie with visuals that definitely hit me right where it counted. The world that this franchise has cooked up is fantastic (in both senses of the word) and it keeps me coming back for more. The aviation otaku inside me was squealing in delight over the aviation animation and that only made it's position on this list all the more solidified.
It was a feel-good movie that really managed to lighten my day.
The Biggest Loser: Walkure Romanze
Every once and a while an ecchi show comes along that restores my faith that ecchi can be more than just fanservice for the sake of fanservice. It proves that it can rise above its animation quirks and odd writing to transcend the ecchi genre and become something more.
It was not Walkure Romance. There's so much wrong with the execution here that I don't know where to start. The biggest blunder this series made was just piling on the incredulous amounts of fanservice with absolutely no self awareness or rationale for doing so. It was just frivolous and completely useless.
The Dark Horse: Myself; Yourself
Myself; Yourself wasn't amazing by any means, but it was surprisingly strong for what I expected going in. Part of this was because of the generic story the series seemed to portray before taking a hard left into something completely different. It managed to completely blindside me with a whole mess of themes that I didn't really see coming.
In that way, it is the dark horse. It blew the lid off my expectations by playing off them.
---
Other News:
On the anime articles front, I finally put out the "semi-official" Ani-TAY Review System so that Team Ani-TAY could feel a bit more cohesion amongst each other with cool graphics and stuff. We're hip! I also did my big post on the Five Anime of Winter 2014 You Should Be Watching. It exploded with popularity and it remains my most-viewed article at over 16,700 views and counting.
In addition to Anime Marathon 2014, I also kicked off a regular column called the TAY Author Spotlight where I interview TAY authors. It's been a success so far and I'll continue to do it well into the future.
My one-off articles for this leg ranged pretty wildly. I went on something of a spur-of-the-moment tirade back in January about Digital Rights and then followed it up with a bit of meta-humor with a TAY Author Spotlight where I interviewed myself.
You still don't make any sense.
Hey, it's that voice again!
I also dipped my feet into games in this leg of the anime marathon. I did a piece where I chronicled the story of TAYville, my town in the indie game Banished. Miraculously, TAYville is still going strong to this day. I also did the official TAY review for Persona 4 Golden, one of my favorite RPGs of all time.
Well, that's it for this post everyone. Thanks for reading!
You can find all my articles on Dex's Corner.