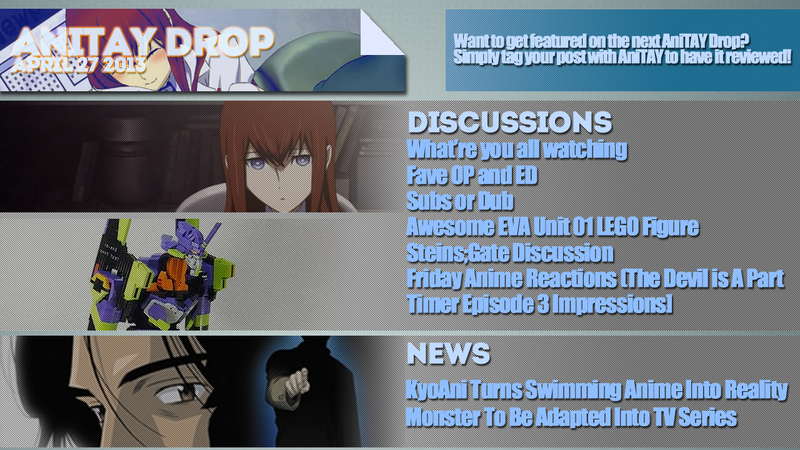 It's been a pretty light week for anime here on TAY. Still, there were some discussions here and there. I'll also be adding some news from the main site that some of you may not have seen.
TheUnfathomableTruth asks us what anime series has been killing our social life lately. It's a nice thread if you're looking for something to watch.
e1salvador once again asks the question that ravages friendships and ends relationships. Which OPs and EDs penetrated the deepest recesses of your mind?
Still have friends after that OP/ED discussion? Then lose a few more with this subs/dubs debate courtesy of TheUnfathomableTruth.
4 ft. LEGO EVA Unit 01 [Kotaku Article]
You just have to check this out. This is the LEGO figure that will turn the human race into gods.
TUT (TheUnfathomableTruth) gives his impressions of The Devil Is A Part Timer's 3rd episode. World domination has never been tastier.
TUT's Steins;Gate Impressions: Part 1
TUT's Steins;Gate Impressions: Part 2
TUT's Steins;Gate Impressions: Part 3
TUT also gives us his impressions of the awesome Steins;Gate.
Tumblr Prayed Hard Enough: KyoAni Swimming Anime Now a Reality
KyoAni's swimming PV thing gets turned into a full series. It might actually be interesting seeing how it has the same writer as "The Devil is a Part Timer" (Masahiro Yokotani). Its characters are also designed by Futoshi Nishiya who also worked on Hyouka and Nichijou.
News link: http://www.crunchyroll.com/anime-news/201…
Live-Action Adapation of Urasawa's "Monster" Being Developed
Guillermo del Toro is in talks with HBO to create a live-action adaptation of Monster.
That's it for this week's AniTAY Drop! If I missed anything, just post it below! Again, if you want your post featured next week, just have it tagged with AniTAY! :)