It's been a while since the last AniTAY Drop. Everyone's excited about Animal Crossing, E3, next gen, The Last of Us, and all the other awesome gaming stuff but there were still great AniTAY entries during the past two weeks! Also, let's not forget about AniClub!
*Note: Had no time to edit a banner image if I wanted to post this anytime soon. I leave you with that cray cray vid instead. No section header either :(
Leading this week's AniTAY Drop are two great and well-written posts by Walfisch!
Anime Impressions: Kids on the Slope
by Walfisch, The Nightmare of Solomon
Walfisch gives his take on one of my favorite anime shows: Sakamichi no Apollon or, as it is more commonly known in the West, Kids on the Slope. Head over to the article to read his well-written take on the show and to listen to some sweet Jazz music!
An Ode to Gendo Ikari
by Walfisch, The Nightmare of Solomon
IT'S GENDO. Are you a manipulative sunovabits who always get your way? (*clicks on wrong link*...just as I planned) Read this to be the change you want to see in this world.
Cowboy Bebop
by UI 2.0
UI 2.0 gives his impressions of Cowboy Bebop. I haven't watched it yet but TAY NEEDS TO WATCH THIS DAMMIT. It has dachshunds! What more do you need!?
Ani-TAY: Special Post Con Anime Highlights
by TheUnfathomableTruth
TUT lures us into his "Anime recommendations/impressions/list" article with an image of Red Data Girl then he just mentions it in a sentence (same with HenNeko). Those two are probably some of the better ones of this season. I...I can't comprehend this TUT...you're starting to live up to your name...
Anyway, check out the article if you need some new anime shows to check out! He even links to the Crunchyroll/Hulu/Whatever page! Thanks TUT!
We've Got Serious Business to Discuss
by Zarnyx
Presenting the natural evolution of the dating post: The Waifu post! When all real life hope is lost, humanity turns to the last bastion for love and intimacy: 2D. Find out who fills up which TAYer's non-existent Incognito Browser History!
Ani-TAY: The Reaction Corner: Shingeki No Kyojin
by TheUnfathomableTruth
The Reaction Corner returns with a series that would definitely elicit a good/strong reaction from people who watch it! Watch as TUT tries to comprehend just what the heck is happening with this series. Check out the comments section too for other TAYers reaction to this series.
Easter Eggs: Did You Catch That?
by TheUnfathomableTruth
Welcome to the post that made me watch Paranoia Agent. Discussions are a bit sparse but there are still some posted on the comments section. Check them out, you just might find your next favorite show.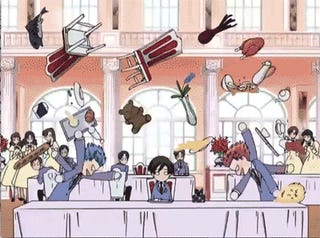 It seems more people are getting into the show and enjoying it! I think everyone hopes Renge disappears, though.
Something About Ghost Hunt
by Ulgar the Frostclad
Are you, perhaps, in search of a new anime show? Are you interested in watching a suspenseful/intriguing anime that delves on the supernatural? Do you want to learn more about the supernatural side of Japanese culture? If you answered yes to any of those, then check out Ulgar's sweet and short review for a similarly short but sweet show.
—-
*Note: That related posts thing really messes up the layout especially when there are small images -.- Anyone have an elegant solution for that? I'm using bullet points/lists so that all the stuff won't compress into a tight space but it doesn't really look good...
That's it for this week! Depending on the number of AniTAY posts this week and because of E3, AniTAY Drop might return on the following week (~Jun 21). Have a great week, TAY peeps!
And a friendly reminder: If you're gonna post an anime article, don't forget to tag it with AniTAY! :)
That's it guys! If you want to keep the ball rolling, just comment below or head over to TAYClassic! Not quite sure how to? Just check out this guide!