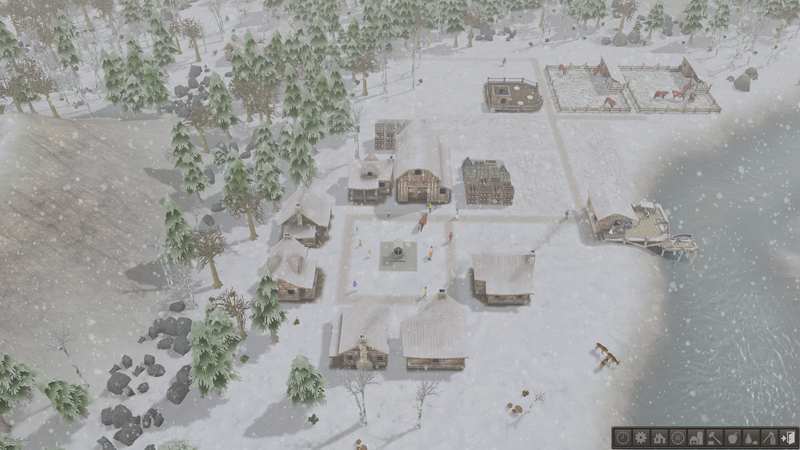 After my thirty minutes article earlier, I continued the game on-and-off the whole day. Needless to say, TAYville has gone through some tough times that aren't entirely my fault! I chronicle TAYville's first twelve years, and what a journey it's been.
I pick up right where I left off, transitioning from the calm summer into the cold autumn. Unfortunately for TAYville, winter literally came early this year (seriously, the seasons of this game change). With only a small amount of food left this year and enough firewood for maybe one season, I set to work trying to get past my first winter.
After banking a bit of food off the fishing business, I quickly realize that I'm running low on food regardless of my incoming. I decide to slaughter three of the village's cattle to get a larger surplus to get through the winter.
It's a long winter, lasting into the spring, but there's light on the horizon as the temperature gauge slowly rises. I figure that once spring finally comes, my farms will be able to take over my food production. This game works like reality in that farms are a one-shot or no-shot business. In the spring you plant the crops and hope that nothing goes wrong. If nothing goes wrong, then you'll bank a bunch of food for the winter. You've just got to hope that you have enough to make it through winter though.
Luckily, I make it through the winter and I'm greeted with a most welcome sight indeed, green grass and sparkling water. I throw my plans for the year into high gear and build a bridge across the water so I can exploit the forest across it. Also because bridges look cool.
It also works out and my town grows even faster. From my humble beginnings with only 23 people, I've grown to a whole 29. It might seem small, but it makes a huge difference.
Elsewhere, my farms have been growing excellently and I'm very hopeful for the future. Spring morphs into summer and it's time for my green beans and squash harvest. It goes extremely well and I manage to get enough food to exceed what I need for the next couple seasons.
With my food problems gone, my resource shortfalls covered for the moment, and firewood steadily climbing, I feel like I'm set for this next winter. Nothing could possibly go wrong.
And then... it does. Terribly wrong.
As if sensing my contentedness, the game decides that right now, the second year of the game, is the perfect time to unleash the worst natural disaster the game has at its disposal at me: a fricking tornado.
This disaster is known to be the rarest in the game and the most deadly of them all. It cannot be stopped and people will die.
Unluckily, it rips right through the center of town and over half of my population is instantly wiped out.
The immediate result of this is a labor shortage. I have a decently built-up economy at this point and it is now an empty shell without much of a surplus. Most of the children survived the tornado, but only a fraction of my adults did. What this means is that the ~5 adults left must provide for the ~9 children left.
The only saving grace in this situation is that with less mouths to feed, my food surplus will hold out longer. My economy stagnates and putters out almost immediately following the tornado.
As if to mock me further, snow comes right at the beginning of autumn, making me anticipate another long winter. With my food surplus slowly dwindling and my firewood nearly gone, I resolve that this won't break me. The townspeople of TAYville are a resilient bunch. While the town has been reduced to just a fraction of its former self, I'll make it bounce back.
Challenge accepted Banished.
---
Eight Years Later...
It's been eight years of rebuilding for TAYville and it's changed a lot.
After the disastrous second year tornado that nearly destroyed the entire town, the TAYville residents have bounced back surprisingly well. We've had constant resource shortages though. Everything from lumber to tools to food. It's been an uphill battle against a never ending cycle of shortages.
We've still made it this far, that's encouraging enough. My population has finally reached a far more manageable ~25 adults and ~9 children since the children have all grown up and joined the workforce. Even so, there's still plenty left to do. The previous year, I had decided that it was time to completely abandon my old farms next to the town square and move them across the river to the larger areas. Bigger isn't necessarily better, but it is more efficient. That's exactly what I needed.
Even with my food situation now well in hand, I face yet more shortages of wood. I've found that wood has become one of the most prized commodities in my arsenal. It grows slowly and it can only be cut down every so often. My two largest work forces are my agriculture sector and my forestry sector. This becomes problematic because while wood is good to have, you also need to make things out of it.
That gets really difficult to do when everyone is already harvesting veggies and wood! Nevertheless, another year passes and things are more-or-less looking good for TAYville.
The biggest change this year has been that I'm nearly done replanting a forest next to the town square. It was decimated during a particularly difficult winter in year eight for additional firewood. The second biggest was the establishment of a quarry across the river. Also notice the new, larger pasture for my cattle.
I don't think anyone can say for sure how things will go for TAYville in the future. It's already been through so much. Fires, infestations, and a fricking tornado. It's been a very eventful twelve years for TAYville.
I wonder what will happen next.
---
What I've Learned:
Tornadoes suck
Wood is a surprisingly precious resource. Get two foresters early and bank your wood
Fishing is a good stop-gap food that improves your chances of surviving the winter
Larger farms are more efficient
Larger pastures allow for larger herds, which inherently grow faster than small ones
You can make ale out of plums
Tornadoes still suck
---
Extended Impressions:
As I figured, resource management is big and almost hair wrenching sometimes. I've had to decimate forests to keep my villagers from freezing to death some winters. If you get a good start in the game and manage to get into the trading game early on (trading food for tools or some such), you'll probably be way better off than I was. My economy tanked after the tornado hit and it has never quite recovered.
This is a good town-building game. I do like it. It feels a great deal like Anno, SimCity, and the base-building aspect of Age of Empires with a bit of that indie title Towns thrown on top.
The game itself is going to be for a niche audience that likes economic city-builders. There's a lot of micromanagement and resource juggling, particularly as your town grows in size.
If you want that out of a game, this $20 price tag is totally justifiable. I anticipate this eating up a lot of my time.