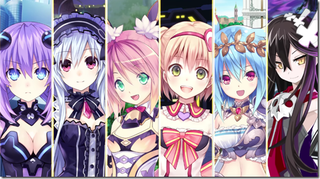 Yesterday the teaser website featured the protagonist of the Hyper/MegaDimension Neptunia franchise of games. The flagship series of Developer Compile Heart. Normally a very prolific series with four main games and six spin offs, since the release of Megadimension Neptunia VII a few months ago not much has come out regarding the series.
However changing gears today the recently launched teaser site features Tiara a character from a completely separate series, Fairy Fencer F. Which is having an enhanced release of its debut game on the PS4 next week. Furthermore Compile Heart does not directly work on Fairy Fencer F, instead it comes from the Galapagos RPG studio. Also recently responsible for the less then stellar Omega Quintet also for the PS4.
Considering there is still five days left of the countdown it's unknown if they'll wrap in more franchises. However a cross-over RPG from their major franchises does seem to be an interesting idea. Siliconera is also reporting the phrase "The gate to the chaotic world will open" a potential reference to the God of Chaos from Fairy Fencer F.
Regardless it's an interesting little teaser for fans of the studio, especially as its been confirmed that the universe of Neptunia is a multiverse. Anyone think this series is going to get even bigger? Hell at least it'll explain how characters seem to pop up everywhere, looking at you Pippin!
Update: Well... I was off. The damn thing is a free to play Cardgame for the Vita. All this and its a damn cardgame! We have Gwent and Hearthstone, sorry cute anime girls Geralt of Rivia and Warcraft cuts you down.
I've decided to leave everything up for all to see and laugh. There is even a trailer if one cares enough...