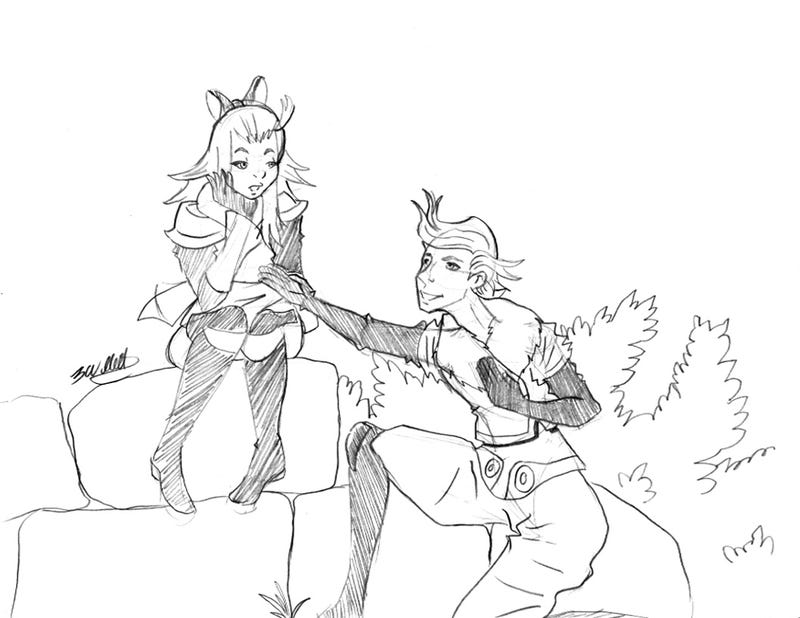 Welcome to Craf-TAY Corner, the monthly feature that showcases the creative side of Talk Amongst Yourselves. If you have any creative hobbies from drawing to cosplay to building models, this is the place to showcase your ongoing and upcoming projects. Even if they aren't actually game related, we want to see it.
July was sort of a slow month for me. I did work on my Bayonetta doll and my new costume, but I didn't really do anything worth photographing and showing off. I now have the fabrics I need and the patterns are almost done, but beyond that technical stuff I haven't quite had the time or the drive to work on them. Instead I've been focusing most of my energies on my work as an artist. I got Bravely/Default earlier in July and I've been really loving that game. So I was motivated to draw some fan art of my favorite characters, Edea and Ringabel. I don't know what it is about smoozey playboys and the girls who can't stand them, but dammit if I don't love their interaction.
Also, Nan Desu Kan, the premier Anime Con of Colorado is coming up in a little more than a month's time. And since I'm doing the artist alley there, I've been kicking it into overdrive getting some new prints done. One that had been requested by customers over and over again the past few years has been something Kingdom Hearts related. Now I love Kingdom Hearts and was happy to oblige, but it took me a while to come up with something that A) I felt happy with as an artist and KH fan and B) would actually be profitable because it wouldn't take a million years of photoshopping to finish. And BOOM:
I achieved it.
This still took a while to do because, dammit Nomura, why do all your characters have to be so damn detailed?! But I'm happy with the finished results. This print will be available for sale at NDK, as well as a Pacific Rim drawing I have yet to begin, September 12th-14th (Yes, this is shameless self promotion, but this is my feature and I can pretty much do whatever I want.)
As for the REST of the TAY family, VeeKaChu did an incredibly awesome replica of Gordon Freeman's crowbar from Half Life via powder coating (a really neat process if you have no idea what that is.) And Zarnyx tried something a little differently with the Open Forum last week by encouraging people to doodle in their replies.
If you have a project that you've recently finished or are just about to start, show it off in the replies below. And if you want to get featured next month, don't forget to tag your post 'Craf-TAY Corner' so I can actually find it. And when I say the the people of TAY want to see your projects, we mean we want to see any projects. So if you built a replica of Master Chief out of beer cans or painted a Pokemon on your kid's wall, don't be afraid to show it off! If you have any questions, ask in the comments below or contact me via my ConTAYct Page.