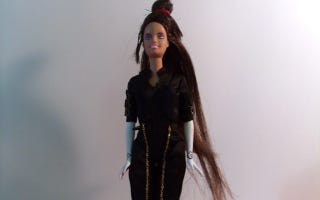 Welcome to Craf-TAY Corner, the monthly feature that showcases the creative side of Talk Among Yourselves. If you enjoy engaging in crafty pursuits, or are merely an admirer, this is the place to talk about your upcoming and ongoing projects. If you do anything from drawing to cosplay to knitting scarves with Triforces on them, we want to see it!
First off, I apologize for this feature being a week or so late. Normally Craf-TAY Corner shows up the first Tuesday or Wednesday of the month. This month however, life has been especially, well, life-y and I just didn't have the chance to put everything together. But better late than never, right? Big news on the Bayonetta front! She's almost completely finished now. Last month I finished her shoes and put back her head (always a big moment, headless Bayonetta isn't much fun) and this week I've done her hair. At this point all I need to do is her finishing touches: the rest of the chains and ribbons in her hair, attaching the charms to her arms and legs, putting on her glasses, and off course, her signature pistol heels. Ideally I'd cast the guns of resin to make them more uniform and save time, but resin's expensive 'yo, as is molding silicon, so it'll be a lot of swearing over Sculpey instead.
Also this month I did a little something for my Secret Santa present. I can't show it off this month because that'd spoil the surprise for my person, so instead I'll post those next month. Around TAY resident art showoff Stormborn drew the mascots from the recently released Alpha Sapphire and Omega Ruby games, as well as a really cool Katniss speedpaint (you overachiever, you), and Nach introduced a doodle Graveyard Shift.
With this being the end of the year that also means starting to think about New Year's resolutions. And most of mine are for this feature. Mainly getting more projects done in a timely fashion. I have a few half-finished dolls and things that still need clothes and hair, plus a bunch of cosplays I want to do for Denver Comic Con. I didn't finish my Halloween costume idea either, and it's too good not to share with the world. What are your planned projects for next year?
If you have a project you've finished, just started or are still in the process of working on, this is the place to show it off. If you want to get featured for next month, remember to tag your thread with 'Craf-TAY Corner' so I can find it. If you have any questions or comments for the feature, either leave a comment below or contact me directly on my ConTAYct Page.