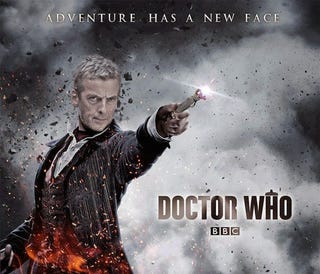 Welcome to a new weekly spot where we discuss one of the most beloved TV shows currently airing, Doctor Who. Doctor who returns next Sunday, the 23rd and brings with it as I'm sure you're all aware, a new Doctor! Peter Capaldi steps into the bigger on the inside blue box for a new adventure. I gotta say I'm greeting this season with a bittersweet hopefulness. I loved Matt Smith's Doctor, because I started my fantastic journey with Doctor Who on the episode the Eleventh Hour huddled around a TV in my neighbor's dorm room way back when Smith made his debut. I was mesmerized and I immediately went back and devoured the previous seasons to get myself all caught up. What happened next was repeated viewings of what was some of the best television I've ever seen.
Ooh this could be good!
SO, I'm a tad worried about the new season as I've never experienced the anxious anticipation that comes from the switching of the Doctor. I've heard some encouraging things though, that the show would be a little darker flirting with much more gravitas than had been prevalent in the Smith years. Speaking of flirting it looks like one of the hallmarks of NuWho, the flirting between companion and Doctor will come to a halt this season. No strained drama between a young girl and a much older Doctor. *whew!*
Reservations? C'mon!
But, I still have my reservations. I know people have been talking about what a fantastic actor Capaldi is and how his previous work is amazing, but he's still an unknown entity to me personally and that's got me a little on edge. Will an older fella be able to keep up with the torrid pace that Moffat has been known for these past few seasons? Will we get rehashed story lines from enemies old, or will we get something new and fabulous that will take our collective breath away? Who knows (sorry!), but I'm totally going to be glued to my TV on the 23rd.
What do you all think?