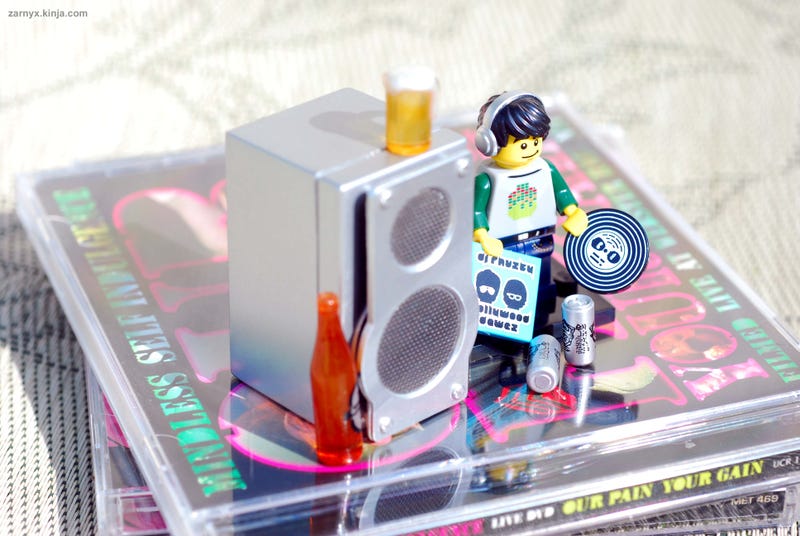 Ask someone to name you just one Chiptune band and Anamanaguchi is more than likely going to be the reply. I've only made my way through the first stage of the Scott Pilgrim vs The World video game and I liked what I heard by the band. I have the soundtrack to the game sitting on my Ipod but I've not listened yet because I have a thing about not listening to a game's soundtrack before actually playing through the game. This is due to the fact that video game music spoilers are very much on the same level for me as having a plot spoiled.
So, I actually am not here to talk about Anamanaguchi because I just do not have the experience with them to do so. I'll leave that to my fellow TAY'er experts and fans of that band to do so! But now that I've lured you here - hey you! Come back here! - let me mention the band I would probably throw at you if asked as having a bit of a video game influence and infusing 8-bit wonder into their music and that is Mindless Self Indulgence (herein referred to as "MSI").
There was a time when you could visit MSI's wikipedia page and much like their insane stage antics, their wiki article description read something to the effect of being, among other things, "jungle rock". What in the blazes is "jungle rock"? The description for their genre of music used to be a mile long and it made no sense. It seems someone took quite the liberties when writing that out. But somewhere in there too, there was a blurb that noted that the band utilized 8-bit sounds in every album.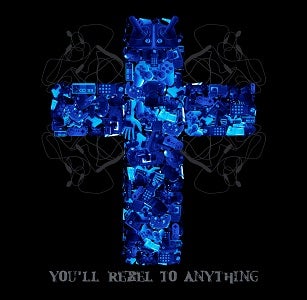 Look at the album cover to MSI's 2005 release "You'll Rebel to Anything"! Are there things you recognize?
If you go to their Wikipedia page now that's gone. They've actually become just a little bit more mainstream as mainstream as MSI can become (which is not very). They're still using synth electronica as part of their style but have somehow managed to become a lot more focused. Their album, If, was a bit of a disappointment for me for some of those very reasons as some of the tracks seemed more rock than experimental rock.
Now before you go running off to go grab some of their music to hear it for yourself or clicking the links I'm going to provide below, be warned that MSI is not an easy listen. They can be all of the following: crude, rude, nonsensical, harsh, and offensive. Their style is definitely not for everyone and with the heavy cursing and *questionable* content in 95% of their songs, it can be even more of an ear bleed to some.
"Hey! Hold on, little guy! I know you're anxious to spin some tunes and I'm with you, mang! But hear me out first! Also, nice shirt..."
But underneath all the controversy and madness, they're pretty fun if you're willing to not take some things to heart and so seriously. They certainly do not take themselves very seriously and playfully trade insults with their fan base while mocking themselves by being self-loathing of their obscure success and music style.

And deeper still, while they are first and foremost rock and never straight chiptune as you would find with Anamanaguchi, layered under the guitars of Steve Righ?, the drum beats of Kitty, the bass lines of LynZ and Little Jimmy Urine's biting lyrics, you'll find your 8-bit sounds infused and stitched in to each song to create a unique style as only MSI can do.
Take a listen to the following tracks below (and yes, they're work safe or what have you):
First up, "What Do They Know?"

Next is a cover of Rush's "Tom Sawyer". If the epic nature of Rush's original jammed into 2 minutes does not impress you, we can no longer be friends! Okay, maybe you're actually judging me pretty harshly at this point but I will never back down from this fight because this is how you cover a song:
And finally, as a bonus track on their re-release of their album "Tight" (called "Tighter". How clever...), an all 8-bit version of the song "Tight":
To hear a lot more of the 8-bit influence in MSI's tracks, I'd have to pick songs that start to border on the NSFW (or ears, sometimes!) and so I won't post direct links to them here.
Here are just a few recommendations though in case anyone is mildly interested:
"Bomtrack"
"You'll Rebel to Anything (as Long as it's not Challenging)"
"London Bridge"
Post me some videos or suggestions of your favourite 8-bit tracks, guys! From video games, Anamanaguchi, some other band I'm waiting to hear because you have not shared yet! or MSI even.
8-bit tracks are blaring over the loud speakers at TAY Classic. Listen closely to the beeps and the boops and you'll hear stories of life, video games and so much more. Use all the relevant tags you want when creating a post but rock n' roll superstar, make sure one of them is "TAY Classic" before you publish or the record company is just not going to notice you. Needed a guide on how to construct some tunes of your own? Read this music sheet guide by TheUnfathomableTruth and get to creating!