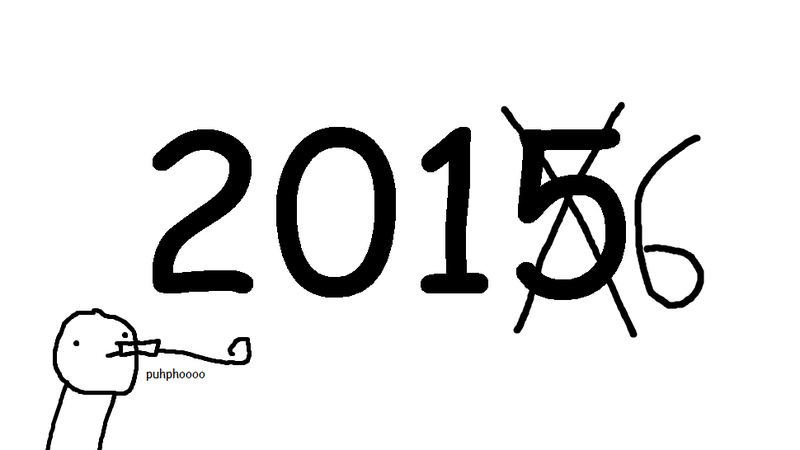 It's that time of year again- the end! FUN FACT: This is the only time in the history of the Earth that the year 2015 has happened! Isn't that incredible? When you really think about it, no matter how special it is, every day is a once-in-a-lifetime event that will never happen again which is why i spend them all playing video games. That being said, here's a list of games I played and enjoyed in 2015.
League of Legends
There's actually a neat little reason this game isn't "Top 10 Games of 2015" and is really just "Games I Likes." It's called "playing too much League to really pay attention to anything else. Ironically, however, the game I focused most on taught me a lot about trying different things- for quite a long time, I only played the same 2 or 3 characters in every game. Eventually, I branched out of my comfort zone, trying out tons of different roles and characters. Middle lane, jungle, ADC- I covered them all.
Except top lane.
I still don't dare go near top lane.
Playing this game with my friends had to lead to some of the most fun things I've ever done, and despite how much time I've put into it, I'm really glad I picked it up to begin with. From level 1 to rank Silver 3, this game has probably been one of the best I've ever played.
TERA Online
I don't want to even talk about how much time I spent playing this game within the relatively short timespan in which I played it. But when you get down to it, there's a reason I played it for as long as I did- it was freaking fun. I still remember when I first discovered it- a friend of mine and I were scouring the Steam store, looking for free games to play. The sea of WoW clones was ravenous, each one appearing flashier and flashier than the next. Terrible payment models and gameplay plagued them all, and it seemed as if the only thing to promote them were claims of fun, but the end product would always seem to be missing something. Then, I found it- a glimmering light in an ocean of despair. The trailer pounded dubstep through my headset, showing scenes of warriors with huge swords scaling Shadow of the Colossus-esque beasts while the words "REAL TIME COMBAT" blared onto the screen. While other games had been berating us with similar sorts of things, there was just something about TERA that looked much more fun than the rest. I immediately alerted my friend- "Look up TERA Online- now."
"You mean the game I was telling you about 5 minutes ago while you complained about ArcheAge?"
Nonetheless, I still had an absolutely wonderful time playing this game. The combat was amazing, throwing the generic point-and-click style of MMO combat out the window in exchange for something that seemed straight out of Monster Hunter, sprouting new levels of inactivity. For once, your performance wasn't based off simple numbers, but legitimate skill and reflex. While I must admit there were games I had more fun playing in 2015, those were fun because of the interactions I had with the people I played with. But the game with the most fun gameplay? Definitely TERA.
Undertale
Unpopular opinion- Undertale wasn't fun at most times. Sure, the bullet-hell combat was unique and interesting, but there were only a few times when I stopped and thought to myself "hey, I want to do this bit over and over and over again because of how fun it is!" However, people like Undertale for a multitude of reasons. It questions your morality, it's funny, it has multiple endings, I love the characters, Mettaton's legs, it made me feel feels. But I didn't like it most for any of these reasons. Looking back on my 37 hours of gameplay since its launch, I like Undertale most because it made me remember something after months of playing aimless games with story only told through indirect bits of lore, like League of Legends and Dota 2. It made me realize that I can always appreciate a great story, no matter how simple. In a time filled with open world games packed with endless opportunities and hundreds of characters you can interact with, it was nice to finally have a somewhat simple game that only focuses on a few characters; a game that takes those characters and develops them as much as it can within the time allotted. Say what you will about its content and complexity, but for a game with so many alternate endings, the thing I was most glad about was that it managed to make a great story without overdoing anything.
World of Warcraft
I-I don't know what happened... a few friends and I decided to pick up the game recently. It hasn't been long, but... I'm already level 26 on a human mage named Toblerone and 48 on a Dranei shaman named Ferrero... This game is addictiiiiing.
In all honesty, despite how recently I've picked it up, staying up late and just chilling and playing WoW with my friends has proven to be extremely fun. While I'm not that far into it, WoW is definitely one of the more fun games to play with friends that I've played in a while.
Rocket League
SOCCER WITH TRUCKS
IT'S SOCCER WITH TRUCKS
OR FOOTBALL IF YOU'RE NOT AMERICAN
BUT NOW I REALLY WANT TO SEE AMERICAN FOOTBALL WITH TRUCKS
OR AS WE CALL IT
"FOOTBALL"
YOU REALLY HAVE TO WONDER WHY WE RENAMED FOOTBALL TO SOCCER SO WE COULD HAVE FOOTBALL INSTEAD OF JUST COMING UP WITH ANOTHER NAME FOR AMERICAN FOOTBALL
HANG ON
I'LL GO LOOK IT UP
...
WOW THAT'S ACTUALLY REALLY INTERESTING
JUST KIDDING, IT WASN'T. I DON'T WANT TO RE-TYPE IT ALL NOW, SO JUST GO LOOK IT UP YOURSELF.
So yeah, Rocket League was a fun game.
---
And there you have it- those are some of the best games I played this year. Now if you excuse me, there's a big ball that's about to drop in a few hours that we all pay attention to for some reason. It's a warning sign to the west coast that they have 3 more hours until their precious 2015 suddenly goes into its rebellious teenage phase of 2016.