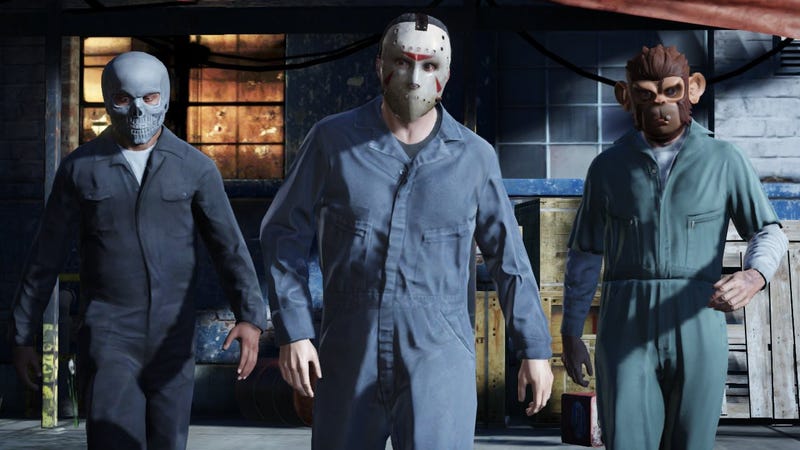 So, I actually got into the online today-let's discuss the pros and cons.
Pro-After that delightful intro cinematic you meet a character from the real GTA 5, and after you do a race you end up meeting another.
Con-These cinematics...are they gonna keep popping up? If so, that's kind of weird. I know the series is known for these things, but in the online space it's really weird for your game to just stop once you pick up the phone so you can see a cutscene of the person on the other side of the phone. I just thought I was going to get killed.
Pro-Less congestion on the freeway, I mean really it's empty.
Con-Picking up heat from nearby players. I wasn't killing randoms with this dude, why do I have to get 2 stars?
Con-That guy who decides to sit next to the clothing shop you have to go to and kill people right after the first race.
Alright, really the cons all come from the "narrative" of the game. I know how to buy clothes, but I digress. Once you actually get into a job you really get to have some fun. You and everyone else vote on whether you want to do a deathmatch(an actually quite hardcore game mode, really fun) or race anything you could normally drive.
This is where the new online mode shines, maybe at some point people will actually be a bit more social in the "walking around" part of the game, but until then the jobs are really fun. Oh, the other big problem with the game, everything that's locked out. You get to an Ammunation and can only purchase an extended clip for your pistol, at about $10k. I don't like this aspect so much, lots of different items are unlocks, from car customizations to the aforementioned weapons and many clothing options.
And you have to unlock elements like freely choosing jobs, until you are told to do one in the "narrative" you can't just choose whatever you want. The narrative stuff, the free floating jobs lobby, I don't know how these really connect. The world of GTA Online just seems very fractured. That said, it is ridiculously fun and like much of GTA 5's content it seems like they've gone for a series of choices that should make many different types of players happy instead of just focusing on any one part of the game to another's detriment.
Seriously though, this is going to be something big. It's very unique, and that seems to be a rarity in the multiplayer world where most games are clearly defined. You know what an MMO brings, you know what a Call of Duty game will bring, there's something beautiful about how diverse they're trying to make the GTA Online experience.