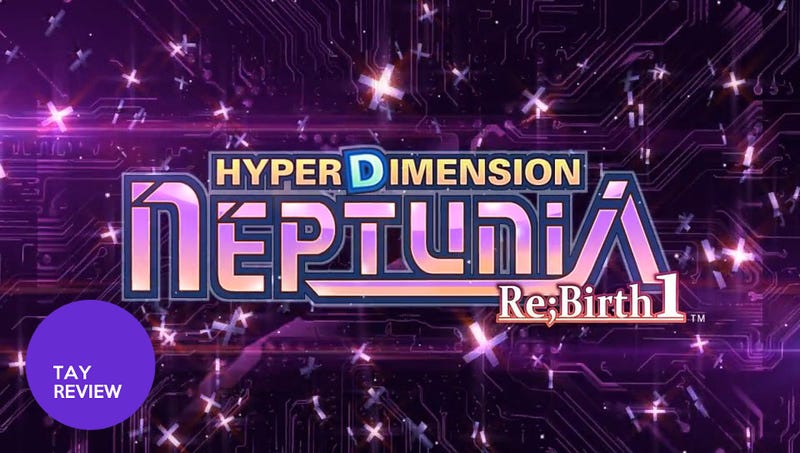 Cute girls? Personified game consoles? Sure, why not? Today, I'll be taking a pretty good look at the remake of the first Hyperdimension Neptunia title as my first official review on this site.
Humor & Satire

Never a dull moment with this cast.
This is a quick and easy one to write about, the game is chock-full of hilarity any gamer should love and understand. Keeping in-tune with other parts of the franchise, it acts as a satire of the gaming industry and gamer culture. Gamer culture is probably something you're all tired of by now, so it's pretty nice to have something say 'Hey, this is all pretty silly.' That's exactly what Neptunia does pretty much all the time. A good example would be Vert. By far and away she's my favorite CPU, but she also puts a little bit too much of her time into gaming.
A Revamped Battle System

Position and attacking multiple enemies is key.
Disclaimer: I'm a rookie to the Neptunia franchise. Before Re;Birth, I had only played the iM@S clone spinoff and seen the anime. I've never gotten around to buying a PS3 so I've never experienced the first three games. And well, frankly I'm glad I started with Re;Birth.
I can't comment personally on how it feels compared to the original game in battles, but it's certainly standing well on its own. The idea of the movement circle and having weapons be able to possibly target multiple foes at once. I actually spend way too much time trying to line up some of the characters to attack as many monsters at once.
Change the Game How You Want, When You Want

Adding items, changing difficulties, changing dungeons... so many choices!
Most games will give you options to tweak, settings to modify here and there, but the Remake system in Re;Birth is chock-full of alterations you can make to the game itself. You can change items in a dungeon, add more difficult enemies to fight, even add items to purchase or add dungeons to the map themselves! Everyone will have at least a slightly different experience depending on what they choose to make. Sure, it takes a while to collect ingredients and add more memory, but there's so much you can do! It adds a lot to the experience because you can play the game the way you want to play it.
The Narrative Isn't Great, But Gets the Job Done

Neptune, that's your own sister.
Yeah, yeah I'll just say this right away: The actual story isn't particularly deep or meaningful and definitely relies a bit too much on the series' trademark humor to keep you interested rather than the narrative itself. This doesn't mean the story is bad, though. It definitely is worth keeping an eye on to make sure you know what is going on, and the few serious moments are pretty well on their own. There's just... not much to it. Though if you wish to play a Neptunia game for the story, you are looking in the wrong place.
Difficulty Spikes Aplenty!
How I feel when I finally whoop that one boss.
'Oh, that boss wasn't so bad.' Yes, that boss wasn't. That says nothing about the boss thirty seconds afterward with basically no save point in between. This happens frequently mid-game and will catch players on their first go off-guard. Whelp, time to reload that save from half an hour ago and play this double boss again. It basically amounts to a lot more wasted time than you'd be comfortable with for a while. Then you just get used to it.
A hilarious, fun-loving game that will keep a smile on your face more often than not? Yup. That's basically what this is. The 'not' typically includes times when yelling because, whoops that's another hour down the drain thanks to this one boss.