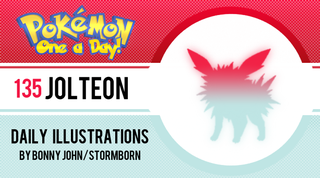 Lightning Pokemon
Electric Type
Graffiti meets Pokemon One a Day! Jolteon, the middle of the first gen eeveelutions was the first choice for this style of typography. Back in high school, you could never catch me without less than 10-15 sharpies on me. I tagged everything...That belonged to me. I never liked defacing a clean area to break it in...It felt wrong haha. To others, that's the whole point!
So what I am giving that history for? To tell you how long it's been since I dabbled with anything remotely close to grafitti. In terms of typography for illustration purposes for this series, it's been a while since I attempted anything like this - there was Metapod and then Ekans. Since then, I haven't dabbled in anything like it until today.
JOLT. That is what the art says in between depicting the creature above.

Throughout my drafts for this piece, my lettering style was being born, reacting to all the new knowledge I've gained about my craft over the course of this series. I looked up a lot of other text oriented grafitti work. The ones that stood out to me were the pieces that looked illegible, like an alien language or something - those pieces concentrated on the form than anything else.
Mine is a little but of a mixture. As much as I was trying to create ambiguous lettering, it wouldn't really work for the overall vision I had - which was to incorporate text to create the body of Jolteon. The J and L facing both directions could make for the lightning Pokemon to be in a sort of running or leaping pose. I angled the "o" to follow in form, and let the t explode in a barrage of spikes to mimic the tail. The spikey mane and head were a sort of "crown" to the whole of the piece.
This was an extremely fun piece to work on, especially in the early beginning and late phases of the work. The middle was both frustrating and enlightening, as I fought through lines and marks to get closer to what I had in mind. What do you think of the work? Can you see this sprawled on the side of a building? Thanks as always for tuning in, ladies and gents! I'll see you tomorrow with the last of the trio. Night!
Yours,
Bonny
+ Pokemon One a Day is a series illustrated and curated by Bonny John in an effort to represent the the first generation of characters from the world wide phenomenon that is known as Pokemon. The idea is simple - to draw and share one new Pokemon a day (weekends off!) until every Pokemon from the set is completed. This project is an exploration of fine art styles for learning and leisurely purposes.
+Click here to visit my personal website! It'll direct you to my YouTube, FB, Twitter, DeviantART, and Tumblr pages!