This morning Atlus showed off a new trailer for massively anticipated Persona 5. Let's have a look and see what is revealed here!
Full Trailer:
So first off, we get a shot of Tokyo at night, overlooking what appears to be some type of party. Quickly we see a figure moving, which is revealed to be our Protagonist from the previous trailer.
He quickly makes his escape, leaping out from the building before being seeming cornered by something (Maybe the police? Or perhaps something else)
We cut to the staff credits, which show four characters swinging around the highways, which makes sense considering the Tokyo setting we are already aware of. There are 4 character here that we can see. The first is the Main Character (we can tell from his trench coat), the second is the girl introduced later in the trailer, the third is someone we don't know, and the fourth is the other guy introduced later in the trailer (we can tell from his scarf).
They look like superheroes, or vigilantes! This is supported by the interview published today with series director Katsura Hashino:
For this game, we're going with a challenge that fuses together a juvenile school setting that is as large as life, together with a picaresque romance. In the previous game, we wrote a story that involved having a justice group chase down a bad guy that could easily be feared by just about anyone.

This time, it's about a group of high school students that are being "chased" by unexpected occurrences due to the justice they believe in. We're writing [the story] to convey a thrilling everyday life in the shoes of these characters, that are as large as life, in this juvenile school setting...

We may feel some sort of suffocation in this world today, but as long as the world is comprised of relationships among humans, it is a person's character, or a group's character, that will provide the 'power' to destroy that 'feeling of entrapment'.

Translation from Siliconera
The masks clearly play a big role in this and we already see them prominently featured on the main characters. This is also a massive part of Jung's idea of personas which the game draws from heavily.
--- Oh look, it's Igor and two new assistants! Notice they are dressed up as prison guards, and we see a jail cell opening up? This will be important later in the trailer.
---
Then we see a cut to the Shibuya cross walk, where we see someone transform into a bird. I'm inclined to believe this is not one of the protagonists because it looks like they are wearing a top hat, so my first guess is that this may be a first look at the antagonist for the game.
---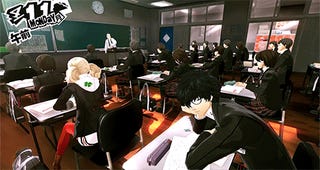 We get our first look at the gameplay in the series, showing the Main Character taking the subway, walking in the station and attending school. The graphics are a massive improvement from Persona 4, comparing well to the art-style seen in Catherine.
---
And now we get to see new characters, here they are:
Ryuji Sakamoto:
Anne Takamaki:
As well as Morgana the cat-burglar.
It's notable that we see an animated cut in here, which might suggest that instead of using portraits they will be using full CG with animated cut in like the ones seen here.
We also get to see them at cafe, gathered around the floor plans of a building. Perhaps they are planning a heist? And then another stylish shot of our protagonists.
---
Notable here is a shot of our cat-burglar friend, showing a number of different words. Luxuria is the most prominent here, which links easily with the beginning of the trailer where the Main Character crashes a fancy party. The rest of the words are linked with the seven deadly sins as well:
Luxuria = Lust
Gula = Gluttony
Ira = Anger
Invidia = Envy
Superbia = Pride
Credit to artsi on NeoGAF for pointing the translations out.
---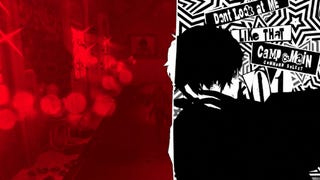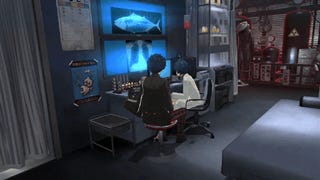 We also get a peak into what the main menus will look like here with the red theme, and later in the trailer with blue and green menus.
---
We then get a shot of what looks like a possessed driver, and a subway crashing. In his interview Hashino alludes to the catalyst for the protagonist's quest being a "significant event" so a potential subway crash would make a lot of sense in that regard.
---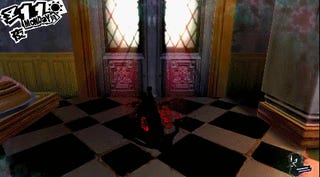 Now we get a look at what the dungeon gameplay looks like! The dungeons look significantly revamped, adding platforming as well as stealth elements.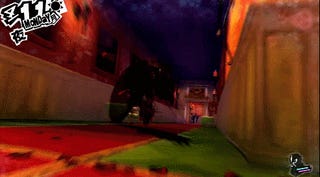 I'd say it's pretty likely the stealth elements are there to help you get a first strike on enemies, and it's worth noting that enemies no longer appear as blobs but now you can see what they are ahead of time.
---
We get to see some of the menu aesthetic, interspersed with a scene of our group first during the day and then escaping in full battle uniform.
---
Then we get a shot of the main character in the velvet room, which looks like a jail this time around. Notice he is also wearing prison clothes. This clearly goes with Hashino's comments about vigilantism and the blurring being right and wrong for the protagonists.
---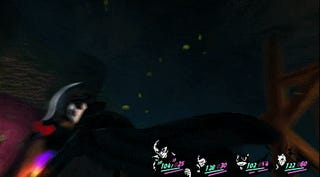 We can clearly see here that this is what an all-out attack will look like during the battles. Also it's notable that guns can be used in this game. If you look at the bottom of the screen there you can also see what the UI will look like in-battle, which is very similar to previous Persona games. Notice they are all wearing masks in battle?
---

We see a shot of our characters doing a skate along the highway, all stylized and such. I really enjoy the aesthetic they have achieved with this opening.
To end off the trailer we see the main character, and it looks like he is transforming into a Persona in a scene similar to the awakenings seen by the main characters in Persona 3 and 4. It will be interesting to see how this is incorporated into the game mechanics.

Let me know if I've missed anything and I will update! Get on board the hype train!
Persona 5 is scheduled for release in 2015 in Japan and North America.