If you still haven't shared your friend code with me, why not do so today? Leave your friend codes in the comments below for me, please? My player name is Bonny and the friend code is as follows: 2148 8323 1752 Thanks!
___
Bat Pokemon
Poison/Flying
The Pokemon you love to hate...The Pokemon who prompted the creation of "repel"... The one Pokemon who just had to appear in shiny form before me and was then soon recruited to fight for me after evolving twice until my Crobat, as cool as she was could not hang with the best of them. Today, let's look at my rendition of Zubat! About 200 (!!!) of them make up this one big Zubat.
Granted, I've been lucky with shinies and caught a shiny Donphan and Noctowl in my first playthrough in Pokemon Silver years ago, but a pukey green colored Zubat? Ehh, you know what? These things are rare, I should be so happy.
A las, we're looking at the regular blue Zubat we've seen thousands of times already. This Pokemon has been seen in almost all the games I'm sure; they live in caves and there are a few of those you must traverse through and get bombarded by these suckers. As such, that thought fueled motivation for how I would depict Zubat.
To get started, I drew one big Zubat. I got down the shape and a general pose of it in flight. The depiction is similar to images of schools of fish, who are all clumped together but in my illustration, I wanted a large number of Zubats in a group to create one big Zubat. I thought of two outcomes: to leave the Zubats as is after arranged, or color in spaces of the large Zubat comprised of the smaller Zubats in key spaces to further illustrate the big Zubat, such as filling in red and black for the mouth, and purple for the wings. I decided to go with the former, and use some sharpening, blur, and burn tools to help create some distinction between all the Zubat feature.
At first, all the Zubat were the same size, flying off in the same direction, and repeated which made a very clean piece. I was fine with that because I haven't gone in a style that's been as tight as this direction in terms of placement, but I found it to be a bit boring. By varing the flight directions and the size of Zubat, I could fill in spaces of the big Zubat, which was layered beneath all the small ones for guidance. The end result is pleasing and fulfills my requirements for a piece I can ship out.
And there you have it! A Zubat for you to enjoy, and not simply run away from or mercilessly beat up out of rage! Thank you for reading and viewing folks! Hope you enjoyed your weekend, and see you tomorrow.
-Bonny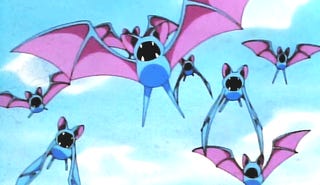 + Pokemon One a Day is a series illustrated and curated by Bonny John in an effort to represent the the first generation of characters from the world wide phenomenon that is known as Pokemon. The idea is simple - to draw and share one new Pokemon a day (weekends off!) until every Pokemon from the set is completed. This project is an exploration of fine art styles for learning and leisurely purposes.
+ Links to my YouTube, FB, Twitter, DeviantART, and Tumblr can be found on my official website
+ If you wish to share on Tumblr, please reblog from the original source