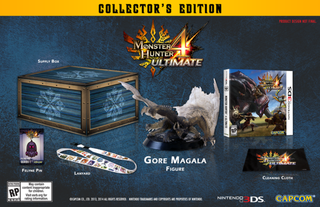 Yuri Araujo at Capcom-Unity has just announced the Monster Hunter 4 Ultimate Collector Edition for North America.
The CE includes:
1) Exclusive Gore Magala figure!
2) Felyne wearing Gore Magala armor Pin
3) Monster Icon lanyard
4) Cleaning cloth
5) A North American version of Monster Hunter 4 Ultimate
6) Supply Item Box
You can preorder the game at GameStop for $59.99. Quantity are limited.