Genres: Comedy, School, Slice of Life, Seinen
ENGLISH SUBBED
Well I watched this with my sister after I was intrigued by this little animation
So after I reverse Google searched the gif and it gave me the title!
So this little show is about three girls in high school Yui (blonde), Yuzu (Pink), and Yukari (Blue). And from then on it's pretty damn goofy. Most of it is Yuzu being Random. Yui occasionally hitting her for it and Yukari just being adorable and sleepy. It's only 12 episodes long but I enjoyed everyone one of them! Also Yukari and Yuzu mess with Yui a lot!
You should watch this if you want to see something random. There is not really any plot other than the fact that the school year progresses along through the show. We started watching it because we were feeling pretty down this up lifted our spirits greatly!
How can this not make you feel better?!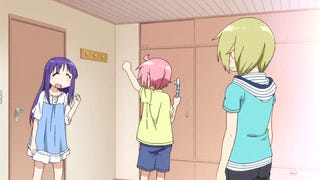 There are many more goofy moments in the show also did I forget they are the only members of the Data Processing club. Oh I did didn't I well that's like an important part of the show I guess. Oh they talk about other characters too. Like another group of girls also their favorite teacher who they call mom.
Just go watch it unless it's not your cup of tea. That's how I thought at first too but like I said it was pretty great!
EDIT
In case anyone wishes to know where you can watch it I got you covered! There are many places that have it available for streaming please enjoy it!